2015-08-20
Nottingham 2015 provides world class experience to almost 100 young footballers
News
The first Under 19 CP Football World Championships
The first Under 19 World Championship gave almost 100 new young athletes the experience to be involved in world class an international event and opened up a new pathway to their national team.
The first IFCPF World Championships Under 19 started with 7 countries from 4 regions in Nottingham, England kicking off on 10th August 2015.
Countries were divided in two groups of 3 and 4. The competition, organised by CP Sport England & Wales, was hosted at the University of Nottingham's Highfields which was an excellent venue. After exciting group matches, Japan, Australia and The Netherlands played for 5th, 6th and 7th positions, whilst England and Scotland made it to the Bronze medal match, with Brazil and Russia contesting in the final for the Silver & Gold.
The Netherlands ranked 5th, followed by Australia 6th and Japan 7th. England beat Scotland in another exiting medal match 2 -1. The final was a very close game and ended with Russia as the first Under 19 World Champion after winning the final with 3 – 2.
Sandy Hermiston, IFCPF President said:
"Our inaugural U-19 World Championships have concluded. Such a marvelous opportunity and experience for our players! Thank you to CPISRA for including us on the program. Many thanks to CP Sport England & Wales (and to Alison Talbot and Sam Turner in particular) for organizing our tournament. The facilities were tremendous, the volunteers amazing and the experience was fantastic. Congratulations to everyone involved."
| | |
| --- | --- |
| | Tournament Positions |
| 1st | Russia |
| 2nd | Brazil |
| 3rd | England |
| 4th | Scotland |
| 5th | Netherlands |
| 6th | Australia |
| 7th | Japan |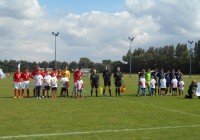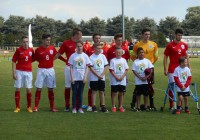 Legacy for CP Football in England & Wales
On the final day of matches, including the last 5th/6th/7th match, the Bronze medal match and the Final, it was fantastic to see so many of the young players from across England & Wales who are part of Cerebral Palsy Sport's national football programme. It is hoped that this tournament will form a key part of inspiring young players to get involved in CP football and showcases the opportunities that are out there.