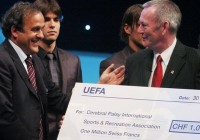 Football is an integral part of global society and, as arguably the world's most popular sport, it has an invaluable role to play in driving social development and bringing its influence to bear.
The UEFA approach to social responsibility is carefully structured and designed to both create and retain long-term benefits for society through football. The core directives of the UEFA social responsibility portfolio are based on a selection of five-year strategic partnerships which strive for antidiscrimination and diversity, social integration and reconciliation, active and healthy lifestyle, implementing football for everyone as well as funding an important series of football foundations and charity programmes.
UEFA recognises the essential nature of social responsibility and football and this includes fair play on the pitch. For example, all fines imposed by the Control and Disciplinary Body are automatically reinvested into the social responsibility programmes outlined above.
Football for athletes with Cerebral Palsy
The International Federation of CP Football (IFCPF), previously under CPISRA, is one of the six bodies within UEFA's portfolio, which started in 2012, and is undertaking excellent work in its specific field. CPISRA is an international governing sports body for athletes with cerebral palsy or a related neurological condition. The body's relationship with UEFA stretches back a number of years, and it received UEFA's CHF 1 million Monaco Charity Cheque in 2007.
The IFCPF's objective is to increase its capacity to best serve its evolving and increasing membership. As part of this objective, in 2010, the General Assembly of the CPISRA adopted a motion for cerebral palsy (CP) football to become an independent sport. Preparations commenced in 2014 to establish a new federation for cerebral palsy (CP) football. The new federation is called the International Federation of CP Football (IFCPF) and commenced operations in January 2015. The IFCPF will now be responsible for providing member countries with resources to help to increase the quality and quantity of CP football.
Since the partnership with UEFA began, 11 more countries have started participating in CPISRA events. Austria, Germany and Wales are among
the European countries to have joined, with Belgium and Norway also becoming active.
The work programme to be implemented during the five-year strategic partnership with UEFA covers four key areas: development grants, coach education, infrastructure development and governance.
UEFA Football and Social Responsibility (FSR) Reports
To see how the support from UEFA has strengthened the work of IFCPF, please see the UEFA FSR Reports in the downloads section of this page.
UEFA Nobody Offside - A guide to disabled football
With 'Nobody Offside!' representing a key objective of both the Royal Belgian Football Association and the Association of Francophone Football Clubs (ACFF), we are committed, in the context of UEFA's HatTrick social responsibility programme, to fostering the best possible football activities for people with disabilities.