Football, globally referred to as 'the beautiful game', is an integral part of society and widely accepted as the world's most popular sport. It is crucial that everybody is able to enjoy the game – regardless of race, colour, religious belief, sexual orientation, gender or disability.
Cerebral Palsy Football (CP Football) is for athletes with cerebral palsy, or a acquired brain injury, and is a team sport played as a recreational activity, or competitively at club, national, regional and international level.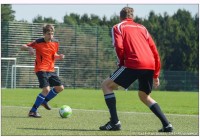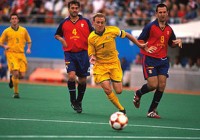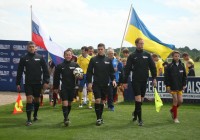 Fomerly known as 'Football 7-a-side', CP Football has been part of the Paralympic Games programme since 1984.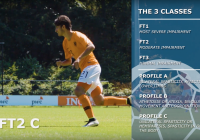 The benefits of playing CP Football
Football has the power to bring people together and to break down barriers. It a great spectator sport that athletes with Cerebral Palsy get tremendous pleasure from taking part in.
Improve their health by participating in a regular activity
Participate in a team sport with other football players with similar abilities
Learn team and individual CP Football skills
Future opportunity to compete in a high sport level
Watch our 'CP Football' video here
What is Cerebral Palsy?
"Cerebral" means brain-centred. "Palsy" signifies a lack of muscle control. Cerebral Palsy (CP) is defined as a heath condition affecting movement, muscle tone, reflexes and posture, primarily due to a shortage of oxygen in parts of the brain for a certain period of time at birth or very young age. It may be present from birth or acquired up to the age of three.
This group may also include those who have an acquired brain injury:
An acquired brain injury (ABI) is an injury caused to the brain since birth. There are many possible causes, including a fall, a road accident, tumour and stroke.

Traumatic brain injury (TBI). TBI is a form of acquired brain injury which occurs when a sudden trauma causes damage to the brain. TBI can result when the head suddenly and violently hits an object, or when an object cuts the skull and enters brain tissue. Symptoms of a TBI can be mild, moderate or severe, depending on the extent of the damage to the brain.
What are the rules of CP Football?
Modifications to the IFAB Laws of the Game make the game exciting; giving spectators the opportunity to see the skills and team play of CP Football.
Some of the changes include:
Only 7 players on the field of play
Two halves of 30 minutes
Smaller pitch and goal posts
No off-side law
Throw-ins can be made by rolling the ball into play
Complete rules and regulations of CP Football are detailed in:
IFAB Laws of the Game
IFCPF Modifications to the Laws of the Game
IFCPF Competition Rules
What is Classification?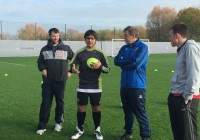 On the field of play the teams consist of seven ambulant athletes, with cerebral palsy or a traumatic brain injury, ranging from classes FT1 to FT3. In total 14 players can be listed on the team list.
Complete Classification rules of CP Football are detailed in our IFCPF Classification Rules
Watch video here about 'Classification'