IFCPF Female Ambassador - Africa: Verah Mwethya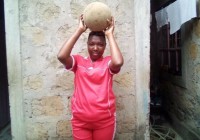 Verah Mwethya is our IFCPF Female Ambassador for Africa, and is from Kenya.
Verah is excited to be part of the Ambassador programme and said:
"I will do everything in my power to encourage more female players to join CP Football."
Keep a look out for more content coming from her.