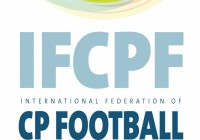 International Federation of CP Football (IFCPF)
IFCPF is the new official International Federation for CP Football following the sport realizing its independence from 1st January 2015, after 37 years, from the Cerebral Palsy International Sport and Recreation Association (CPISRA). Supported and part funded by its member federations, UEFA and the International Paralympic Committee; IFCPF unites countries, Football Associations, National Paralympic Committees, disability organisations and participants from across the world via the game of CP Football.
CPISRA remains an integral partner of IFCPF in the development of sport for those with cerebral palsy, and consequently a smooth transition process towards the sport aligning itself under its new banner of IFCPF was accomplished in 2015. Furthermore throughout this carefully managed change in administrating body, the sport has maintained a high level of support to all its members in the areas such as Participation, Competition, Workforce Officials and Classification.
Vision
Global recognition for Cerebral Palsy Football as a dynamic World Class Paralympic Sport
Mission
We inspire, support and enable individuals with Cerebral Palsy or a related Neurological condition around the World to participate in Cerebral Palsy Football in order to reach their full potential.
Values
Unity
It is our responsibility to foster unity within the Cerebral Palsy Football World and to use Cerebral Palsy Football to promote solidarity, regardless of gender, ethnic background, faith or culture
Trust
We must strive to deliver Cerebral Palsy Football of the highest quality and as the best possible experience, be it as a player, as a spectator, or as a major cultural and social enabler throughout the World
Excellence
Just like the game we govern, we model fair play, tolerance, sportsmanship and transparency
Governance
Download IFCPF Constitution
Download IFCPF Technical Development Plan
Download IFCPF - Athlete Nationality Policy
Data Protection
Download IFCPF Data Protection Policy
Download IFCPF Privacy Notice
Download: IPC International Standard for Data Protection​​​​​​​
Annual Reports
Download IFCPF Annual Report 2017
Download IFCPF Annual Report 2016
Download IFCPF Annual Report 2015