IFCPF is proud to be a partner International Federation of Para Football and member of the Para Football Steering Board. Over many years of collaboration, and feedback from FIFA, UEFA and the IPC, Para Football was formed to bring together all types of football for persons with disabilities through one united voice.
About Para Football
Para Football is a foundation and worldwide body of football for persons with disabilities.
Registered in the Netherlands as a stichting (foundation) and non-profit, Para Football was founded in 2020 building upon a history of collaboration between international federations linked to the International Paralympic Committee (IPC) which has now expanded to cover all types of football for persons with disabilities.
Bringing together autonomous and independent International Federations of football for persons with disabilities.
Supporting National Football Associations / Federations to be more inclusive and develop Para Football opportunities.
Developing and showcasing opportunities for all persons with disabilities in football.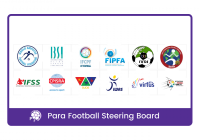 Para Football Steering Board
Para Football's Steering Board, is made up of the international federations responsible for their sport's worldwide governance and development, ensuring a united approach to provide football for all.
Working together through Para Football, this cooperation and collaborative approach will create more effective and sustainable ways of working, along with increasing the awareness of all ways to play football. Each federation brings a wealth of experience, skills, and expertise to the partnership, creating a platform of teamwork for the positive development of the game.
Find out more about the Para Football Steering Board here