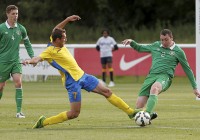 Joe Markey – Ireland

Age: 28
Home: Clontibert, Monaghan
Profession and educational background:
Bachelors degree in Business, Four APA exams (Banking qualifications), Business Credit Analyst Bank of Ireland
Playing Position:
Centre midfield, although nowadays I am not aloud pass the halfway line.
Playing Career:
13 years, 69 full international Caps & 17 goals.
What got you started in CP Football?
I had an appointment in the CRC in Clontraf when I was 15, I seen a poster on the wall I phoned the number and was told the current squad was at the Euros in Ukraine , I knew after that phone call I wanted to get involved.
What is your biggest accomplishment in football?
European Medalist 2010.
What one or two things do you currently do in your training that is key to your success?
The drills set out in training and the coaching staff. We try to replicate match tempo in every aspect of training so when it comes to tournament football were sharp and ready.
Do you have any personal routine that you follow on match day?
I try to relax as much as possible on Match day by listening to music, chilling out with the lads, A High Level of concentration is required during a match. Avoid unnecessary exercise. Hydrate & eat well.
What would be your ultimate achievement?
To Medal in Rio
What are your plans between now and Rio 2016 next year?
To leave nothing to chance, prepare right in terms of Strength & Conditioning, Mobility, Diet, Recovery and of Course the Football.
What is your biggest challenge, and what do you do to manage this challenge?
The next game, in football that's anyone's biggest challenge. I never look too far ahead of our first Match. Carry out the tactics set out, be 100% honest and be willing to take responsibly. You'll not go far wrong.
What is your diet like?
Like any other athlete that competes at a high level. To perform well you must also refuel well
What was the best advice you were ever given?
I was once told when you start to feel exhausted in a game and you think you can't go anymore, it's the same as a fuel light going off in the car it's only a warning sign there's still 20 miles left in the tank.
Do you have a saying or motto that you live your life by?
Leave nothing behind just go out and do it.
Where do you draw your inspiration from?
This squad is full of talented players so our current squad inspires me as I feel now we can achieve more.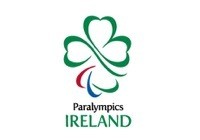 Ireland - CP Football
Paralympics Ireland