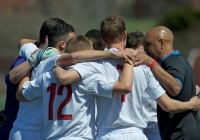 All member countries must notify IFCPF regarding all tournaments, international matches and national championships hosted in their country.
It is of great importance for tournament and match management, as well as to all CP Football supporters worldwide, the competitons that are taking place. In addition, only IFCPF sanctioned competitions can countries receive ranking points.
Please see in the right hand side of this page, the 'IFCPF Competition Sanction Guidelines' and 'IFCPF Competition Sanction Form'.