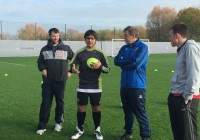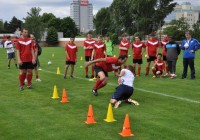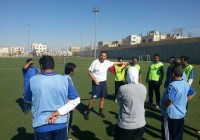 Aims:
Provide ideas to suppport and improve the classification system used for IFCPF sports by evidence-based research.
Develop Research questions that can be used by researchers for future research programs/proposals. Particularly related to classification of athletes that meet the current IFCPF classification rules.
Monitor international research of classification in paralympic sport and in particular for athletes with CP, ABI and other neurological conditions similar to the athletes that meet the minimum criteria for IFCPF classification system.
Establish collaborations with other research groups, individuals and/or sport federations which are working in the field of evidencedbased classification research.
Communication of results and reports, representing IFCPF at scientific meetings related with sports for persons with disabilities.
Evidence-Based Classification:
Change of Direction Ability Performance in Cerebral Palsy Football Players According to Functional Profiles
Raúl Reina1*, Jose M. Sarabia1, Javier Yanci2, María P. García-Vaquero1 and María Campayo-Piernas 1
1 Sports Research Centre, Miguel Hernández University, Elche, Spain, 2 Faculty of Physical Activity and Sports Science, University of the Basque Country, UPV/EHU, Vitoria-Gasteiz, Spain
The aims of the present study were to evaluate the validity and reliability of the two different change of direction ability (CODA) tests in elite football players with cerebral palsy (CP) and to analyse the differences in performance of this ability between current functional classes (FT) and controls. The sample consisted of 96 international cerebral palsy football players (FPCP) and 37 football players. Participants were divided into four different groups according to the International Federation of Cerebral Palsy Football (IFCPF) classes and a control group (CG): FT5 (n = 8); FT6 (n = 12); FT7 (n = 62); FT8 (n = 14); and CG (n = 37). The reproducibility of Modified Agility Test (MAT) and Illinois Agility Test (IAT) (ICC = 0.82–0.95, SEM = 2.5–5.8%) showed excellent to good values. In two CODA tests, CG performed faster scores compared with FPCP classes (p < 0.01, d = 1.76–3.26). In IAT, FT8 class comparisons regarding the other classes were: FT5 (p = 0.047, d = 1.05), FT6 (p = 0.055, d = 1.19), and FT7 (p = 0.396, d = 0.56). With regard to MAT, FT8 class was also compared with FT5 (p = 0.006, d = 1.30), FT6 (p = 0.061, d = 0.93), and FT7 (p = 0.033, d = 1.01). No significant differences have been found between FT5, FT6, and FT7 classes. According to these results, IAT and MAT could be useful and reliable and valid tests to analyse CODA in FPCP. Each test (IAT and MAT) could be applied considering the cut point that classifiers need to make a decision about the FT8 class and the other FT classes (FT5, FT6, and FT7).
Full text
Download RESEARCH: Change of Direction Ability Performance in Cerebral Palsy Football Players According to Functional Profiles
Evidence-Based Classification in Paralympic Sport: Application to Football 7-a-Side
Raúl Reina
Miguel Hernández University, Sport Research Centre
ABSTRACT:
CPISRA Classification Rules for football-7-a-side should improve compliance of the International Paralympic Committee Classification Code, where the language of the International Classification of Functioning Disability and Health is used. Eligibility for is described in terms of impairment, and the aim of the system is to place athletes into classes according to the extent of activity limitation caused by their physical impairments. CPISRA Football permits the participation of athletes with with hypertonia, ataxia, and atetosis, and the should meet a minimum disability criteria to play football. Minimum disability criteria can be met if an athlete's impairment causes sufficient activity limitation in the activity of interest (passing, running, change of direction, among others). Currently, class profiles provide guidance for classifiers during the appointment of players to appropriate classes. However, classes are differentiated from each other based on qualitative descriptions and there is still opportunity for individual interpretation which decreases consistency among classifiers. This paper review recent and current research in Paralympic athletes with hypertonia, athetosis and ataxia, and link research in two Paralympic sports
Download RESEARCH: Evidence-Based Classification in Paralympic Sport: Application to Football 7-a-Side
Consulting the Sport Community for the Development of an Evidence-Based Classification System in Cerebral Palsy Football
CP football is developing its evidence-based classification system, and currently in consultation with our CP Football family
Samantha April Cammidge has just completed her PhD titled "Consulting the Sport Community for the Development of an Evidence-Based Classification System in Cerebral Palsy Football" at the Miguel Hernández University in Elche, Spain.
The research was designed and conducted as part of IFCPF being proactive to the changes necessary of an evolving classification system, and IFCPF hope that this research will help move the classification system in a positive direction.
Her research consisted of interviewing 53 people within the sport; this included two players from each team, Head Coaches, IFCPF classifiers and IFCPF stakeholders. Alongside this, 165 surveys were completed by players that participated at the 2015 IFCPF CP Football World Championships, which were hosted at St. George's Park, England.
The interviews completed were unique based on which role the interviewee has in the sport. Overall, the questions were focused on what changes those within CP Football would like to see. Similarly, the questionnaire was a slightly more basic form of this, but the aim was still to find out what changes players, head coaches, classifiers and stakeholders would like to see.
For Para-sports, such as CP Football, the classification rules are crucial in making sure there is a correct system in which fair play is ensured at major sporting events, such as the Paralympics. This study is part of a series of action in order to compliance with the 2015 Athletes Classification Code of the International Paralympic Committee (IPC).
This study found that there is a need for change within the classification system in CP Football, including: a reduction in the number of classes, a new Minimal Impairment Criteria to be increasingly more rigorous, additional observation during training sessions by classifiers when having to give a class to a player, among others.
For the International Paralympic Committee (IPC) there are 3 steps of classification:
Does the athlete have an eligible impairment for this sport?
Does the athlete's eligible impairment meet the minimum impairment criteria of the sport?
Which sport class describes the athlete's activity limitation most accurately?
If an athlete's impairment and activity liitation answers these questions to satisfy the classification system of the sport, then the athlete becomes eligible to play.
Within CP Football, there are three types of impairments a player may have:
Ataxia – a neurological sign and symptom that consists of a lack of co-ordination of muscle movements.
Hypertonia – a condition marked by an abnormal increase in muscle tension and reduced ability of a muscle to stretch.
Athetosis – is generally characterised by unbalanced, involuntary movements due to constant changes in muscle tone and a difficulty maintaining a symmetrical posture.
Through the classification system, it helps minimize the impact of impairments on sport performance and ensures the success of an athlete is determined by skill, fitness, power, endurance, tactical ability and mental focus.
Actually, within competitions, this includes 4 classes, FT5, FT6, FT7 and FT8. For each team, made up of 7 players, there has to be at least 2 FT5 and FT6 players on the field at all times and there cannot be more than one FT8 player on the field at any given time.
With Samantha's findings, could this classification system change, and if so, in what way? So, IFCPF is conducting a consultation with its members to provide feedback on the new CP Football Classification Rules, being effective on 1st January 2018.