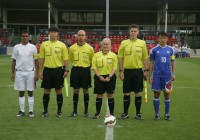 Match Officials selected to work in CP Football must earn their qualifications through their national Football Association/Federation and be officiating regularly at the top level of football in their country. IFCPF Match officials are supported as part of a 5 pillar training programme on an annual basis:
Annual Re-Certification
IFCPF Match Officials undergo annual re- certification where they submit their current FIFA fitness test results, their professional match log in their home country, in addition to CP Football matches, events or tournaments they have officiated at.
ITO Update Meeting
IFCPF's Head of Officiating holds a conference call at least once per year with all IFCPF Match Officials to discuss law changes, the current IFCPF tournament cycle and any major changes within IFCPF and CP Football.
Pre-Event Familiarisation
At the start of IFCPF tournaments, ITOs and NTOs attend a familiarisation session altogether, which includes updates in the classroom and on the field of play. Highlighting Sport Rule changes, areas for specific attention, and reviewing clips from previous tournaments, match officials develop consistency and understanding.
Post-match Debrief
Match officials from each game jointly review and provide feedback.
Further meetings during the tournament are used to discuss tournament progress, review tournament video clips and to make immediate changes or adjustments based on team tactics, player roles, incidents which have occurred etc.
Post-event Self-assessment
Upon completion of an event all ITOs are required to submit a self-assessment of one of their matches to the Head of Officiating. Encouraging self-initiated improvement and progress in their referee development, this helps to determine education needs and future appointments to IFCPF events.
IFCPF Match Officials also support programmes in their own and neighbouring countries to help develop CP Football and the standard of national level officiating, and identify future officials from across their sub-region.