CP Football (f)
IFCPF believe that it is our responsibility to foster unity within the Cerebral Palsy Football family and to use the sport of CP Football to promote solidarity, regardless of gender, ethnic background, faith or culture. There should be inclusive and accessible playing opportunities available to everyone.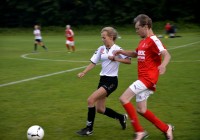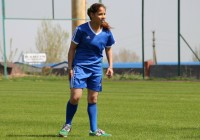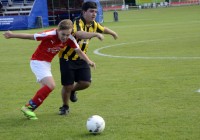 It's taken a long time for women's football to gain the acceptance level it currently enjoys, but it still has a long way to go. The elite level of the women's game has developed rapidly over the last few years.
For the vast majority of the last 40 years, the focus has been almost exclusively on the men's game, following the trend of able-bodied football. But times, societies and attitudes move on and as a young IF we do not want to just be spectators to the global growth of the women's para-sport.
Whilst other sports have focused on utilising mixed-gender participation as a way to create opportunities, IFCPF have taken the time to speak to female players and non-players to get their feedback and insight for the game they want to play.
Through a plan for Female CP Football, we are proud to be dedicating our efforts to well- targeted investment and capacity-building, to achieve more than parity and play our role to help promote and grow the female format of our sport everywhere, for everyone.
IFCPF CP Football (f) Development Group
With a focus on developing the female game, IFCPF have brought together female representatives from all regions who are in leading roles of playing, coaching, classification and development to give insight and expertise. As role models, advocates and with their own personal experience, this group will ensure that all activities to develop the female game are athlete centered and resonate with our female players.
Click here to see the members of the IFCPF CP Football (f) Development Group
Mixed Gender Rule for CP Football
In January 2017, IFCPF amended the IFCPF Tournament Regulations to stimulate tournaments to be played mixed gender, other than in Regional and World Level competitions.
This new rule to allow mixed gender teams is a development tool intended to grow female participation until the numbers become sufficient to have female specific teams and competitions.
See latest IFCPF Rules and Regulations here: www.ifcpf.com/rules
IFCPF Kickstart CP Football (Female)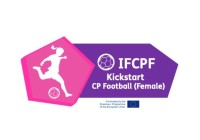 Co-funded by the EU, this small collaborative partnership 'IFCPF Kickstart CP Football (Female)' will last for 24 months and develop better understanding of how to develop CP Football for female players.
2019 Regional CP Football (f) Development Camps
IFCPF have reviewed applications for hosting CP Football (f) Development Camps in 2019, with the aim to build upon last year's camp in Barcelona. Upon review the countries chosen to host are Australia (Asia-Oceania), Trinidad & Tobago (Americas) and the Netherlands (Europe).
Find out more about the 2019 IFCPF CP Football Camp (f) - Europe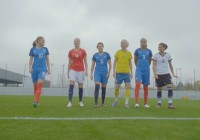 CP Football (f) Development Grants
Building upon the successful application of Mixed Gender opportunities by a number of our members, there was a clear need for a focused development programme to create female specific CP Football. In 2017, IFCPF awarded CP Football (f) Development Grants to 5 successful projects which demonstrated clear participation opportunities and sustainability for female players to continue to play CP Football.
England
Kenya
South Africa
Spain (Catalonia)
Trinidad & Tobago
2018 CPISRA World Games – CP Football (f) Development Camp
As part of the 2018 CPISRA World Games, IFCPF delivered a CP Football (f) Development Camp and Competition to provide an international platform for female players to participate and compete. Running alongside the 2018 IFCPF CP Football World Championships U19 demonstrates a clear commitment to ensuring that all players have the opportunity to play this beautiful sport.
Bringing together individuals from countries including Spain, Japan, Netherlands and Trinidad & Tobago, it is obvious to say, we were all proud and excited to see CP Football (f) off to such a strong and promising start. Most discussions revolved around building on the momentum and developing workshops and tournaments worldwide with the support of all our members and partners.
We look forward to the continuing the development of CP Football (f) worldwide.