2022-02-10
CP Football Development Camp - May 2022
News
The 2020 IFCPF CP Football Development Camp will take place in May 2022 in the city of Salou at Salou Sports centre facilities. This camp is open for CP football players (boys and girls).
Salou has nearly 27,000 habitants and is situated at 1 hour 30 min by car from Barcelona city. Salou obtained the seal of DESTINATION OF SPORTS TOURISM awarded by the Catalan Tourism Agency in 2013, which certifies that the municipality has high quality equipment and services for the practice of sport at all levels. Salou is a modern and pioneer city that keeps on the warm of a village.
The sports centre Futbol Salou is a sports complex with the best facilities in the area to play football. We or- ganise training camps and international tournaments like preparalympic tournament in 2016 with the most exclusive accommodation in Cambrils Park Sport Village resort, located within 10 minutes from the complex.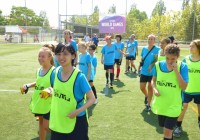 General Information
Organiser: FECPC
Dates: 15th May (arrival) to 18th May (departure)
City: Salou
Development Camp Schedule
Questions and Registration
Please see the attached information pack in the downloads section of this page or click here
Contact: esports@fecpc.cat