2022-02-18
Loughborough to support clean sport initiatives in Para sport
News
Researchers from Loughborough University will embark on a collaborative project to support clean sport initiatives in Para sport. Working alongside the International Federation of Cerebral Palsy Football (IFCPF), academics for the School of Sport, Exercise and Health Sciences will explore the role of athlete support personnel in promoting clean sport behaviours and cultures.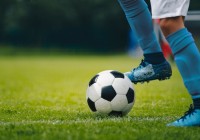 The 18-month project, led by Dr Jamie Barker, Dr Carolyn Plateau, and Ailish King, seeks to help mitigate against anti-doping violations and develop improved knowledge and understanding across the board.
This will be achieved by Loughborough academics via undertaking a series of interviews with players and support staff across the IFCPF membership (including Doctors and Physiotherapists) around clean sport attitudes and behaviours.
It is widely understood that the role and proximity of an athlete's entourage (e.g., doctors, sport scientists, nutritionists, psychologists), and wider Para sport culture (e.g., team culture) are critical influences on these behaviours.
Once complete, the research will also have relevant outcomes for international Para sport populations and organisations in generating future initiatives and supportive educational resources.
Dr Jamie Barker explained: "This project provides a really great opportunity with which to understand the role team cultures including attitudes have on overall clean sport behaviours. Our overall aims for the project are to develop our understanding of clean sport within international CP football along with leaving a legacy of educational resources for WADA and the IFCPF."
Ben Fraj Mohamed Ali, IFCPF Anti-Doping Director, added: "IFCPF is pleased to be working with Loughborough University on this important research project, with the support of the World Anti-Doping Agency (WADA).
"In a highly competitive sporting environment, athletes and their support personnel are under increasing pressure to win. Through better understanding of the role of athlete support personnel we can support the fight against doping through education, guidelines, regulations and rules to ensure a fair and equitable environment for all athletes.

"We look forward to being able to focus more on the core of our anti-doping activities. In particular, we are determined to mobilise athletes even more and give them more means to contribute to clean sport.

"On behalf of the entire IFCPF team, we encourage this research and we thank all those who also actively contribute to clean sport. We are fortunate and grateful to be able to benefit from this experience, this expertise and this commitment. Let's make 2022 and future years in which we can all progress even further together, for the benefit of CP Football players around the world."

Para sport continues to increase in global popularity with major events now a firm fixture on the sporting calendar.
The International Federation of Cerebral Palsy Football Men's and Women's World Cup is scheduled between April – May 2022, and The Beijing Paralympic Winter Games are also due to start in March 2022.
To learn more about Para sport at Loughborough University, click here.
About Loughborough University
Loughborough is one of the country's leading universities, with an international reputation for research that matters, excellence in teaching, strong links with industry, and unrivalled achievement in sport and its underpinning academic disciplines.
It has been awarded five stars in the independent QS Stars university rating scheme, named the best university in the world for sports-related subjects in the 2021 QS World University Rankings and University of the Year for Sport by The Times and Sunday Times University Guide 2022.
Loughborough is in the top 10 of every national league table, being ranked 7th in The UK Complete University Guide 2022, and 10th in both the Guardian University League Table 2022 and the Times and Sunday Times Good University Guide 2022.
Loughborough is consistently ranked in the top twenty of UK universities in the Times Higher Education's 'table of tables' and is in the top 10 in England for research intensity. In recognition of its contribution to the sector, Loughborough has been awarded seven Queen's Anniversary Prizes
The Loughborough University London campus is based on the Queen Elizabeth Olympic Park and offers postgraduate and executive-level education, as well as research and enterprise opportunities. It is home to influential thought leaders, pioneering researchers and creative innovators who provide students with the highest quality of teaching and the very latest in modern thinking.