2015-07-02
UEFA Football and Social Responsibility Partner
News
"Go for your dream. Go to your club and ask to play – and if you're good enough, you could end up playing for your country."
As part of its Football for All Abilities portfolio, UEFA has set up partnerships with a group of organisations with the aim of using football as a tool for broadening the inclusion of players of all abilities, in addition to marginalised or excluded groups.
The programme has enabled each participating organisation to develop long-term activities and set positive targets and objectives. Meanwhile, the organisations themselves have been instrumental in helping people fulfil sporting dreams.
The International Federation of CP Football (IFCPF), previously under CPISRA, is one of the six bodies within UEFA's portfolio, which started in 2012, and is undertaking excellent work in its specific field. CPISRA is an international governing sports body for athletes with cerebral palsy or a related neurological condition. The body's relationship with UEFA stretches back a number of years, and it received UEFA's CHF 1 million Monaco Charity Cheque in 2007.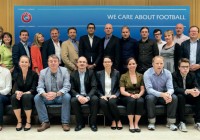 IFCPF continues strong partnership with UEFA
The IFCPF, previously CPISRA, is working towards a world where people who have cerebral palsy or a related neurological condition have the opportunity to participate in the sport and recreational activity of their choice.
The IFCPF's objective is to increase its capacity to best serve its evolving and increasing membership. As part of this objective, in 2010, the General Assembly of the CPISRA adopted a motion for cerebral palsy (CP) football to become an independent sport. Preparations commenced in 2014 to establish a new federation for cerebral palsy (CP) football. The new federation is called the International Federation of CP Football (IFCPF) and commenced operations in January 2015. The IFCPF will now be responsible for providing member countries with resources to help to increase the quality and quantity of CP football.
Since the partnership with UEFA began, 11 more countries have started participating in CPISRA events. Austria, Germany and Wales are among
the European countries to have joined, with Belgium and Norway also becoming active.
The work programme to be implemented during the five-year strategic partnership with UEFA covers four key areas: development grants, coach education, infrastructure development and governance.
Main achievements 2013/14
An education programme for coaches working alongside players with certain impairments was updated and finalised, with the focus on content, a manual, presentations and evaluation.
Two new tutors joined the coach education programme.
Development tournaments were held in Barcelona and Vienna, involving six and four participating countries respectively.
A promotional video was finalised and published on the CPISRA's website and social media as well as being distributed on 300 memory sticks.
Progress was made on setting up the IFCPF including strategy design, branding, website development and constitution under Dutch law.
Coach education programmes were implemented inseven countries.
Planned activities for 2014/15
A research programme will be carried out by the University of Elche in Spain to develop a reliable classification system.
An education programme for classifiers (doctors, physiotherapists and technical coaches) will be implemented to ensure that classifiers are specialised in CP football.
A classification database will be drawn up for classifiers.
A classification analysis programme will be developed to provide video footage of players in specific classifications.
The advent of the international federation (IFCPF) in 2015 is a very important milestone for CP football. Much emphasis is being placed on the business
plan. This should give the game of Football 7-a-side a systematic approach to allow further successful development, thanks largely to the support of a network of dedicated volunteers.