2019-12-01
The Pararoos
Video
The Pararoos - Feature Length Documentary
The Pararoos are Australia's only National Football Team for athletes with cerebral palsy, acquired brain injury or symptoms acquired from stroke. In 2015, after the Australian Sports Commission withdrew all government funding, FFA partnered with the Australian Sports Foundation (ASF) to establish a fund to raise money for the team to continue to exist. The Pararoos are the lifeblood of disability football. They inspire thousands of everyday Australians who struggle with the challenges of disability. And this documentary follows their journey to the 2017 World Cup in Argentina.
To find out more information and to donate towards the Pararoos please head to www.pararoos.com.au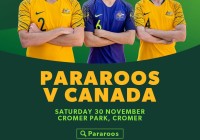 Pararoos v Canada
Australia's Pararoos marked their historic home clash with Canada on Saturday in style, cruising to a 5-0 win at Cromer Park.
More than 1100 fans were there to see the Pararoos first match in Australia in 19 years and were treated to a superb spectacle by Kai Lammert's side.
Ben Roche and Connor Bunce both scored doubles in Australia's win, in what was skipper David Barber's 100th cap in Green and Gold.