2019-09-26
Share your goal on World CP Day with #MyGoal
News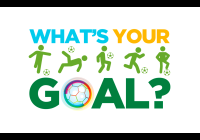 October 6th is World CP Day. This year we can all play our part to showcase what CP Football means to us by making goals for ourselves and sharing them to inspire others.
For World CP Day, we want to bring together the worldwide CP Football Family by asking, What's Your Goal?
#MyGoal Campaign
World Cerebral Palsy Day is a movement of people with Cerebral Palsy and their families, and the organisations that support them, in more than 75 countries. Our vision is to ensure that children and adults with Cerebral Palsy (CP) have the same rights, access and opportunities as anyone else in our society. It is only together, that we can make that happen.
IFCPF have teamed up with World CP Day by creating the 'What's Your Goal?' campaign. Let's show the world what is possible and how CP Football makes a real difference. By showing our goals and the way we hope to achieve them, we can inspire others to do the same.
What can you do?
We are calling upon the CP Football Family to share their goals with us. This can be done by posting a video or photo on October 6th and telling the world what your goal is. We have added a World CP Day communication guide that gives you some examples of what to post and how to do so. You can find it on the right.

We have also included a #MyGoal visual for you to print and use in your video or photo.

We look forward to seeing all of your goals on Sunday October 6th!