2019-09-27
EU Erasmus+ projects to develop CP Football
News
IFCPF is delighted to share the news that our project proposal to the EU's Erasmus+ programme has been selected for EU co-funding. The small collaborative partnership 'IFCPF Kickstart CP Football (Female)' will last for 24 months and develop better understanding of how to develop CP Football for female players.
IFCPF would also like to congratulate SPIN Sport Innovation on their successful project titled: 'ParaCoaching Xcellerator Series: Accelerating the growth of ParaCoaching in Europe'. IFCPF will be part of this innovative project as the International Sport Federation, supporting the growth and knowledge development for Para Coaching.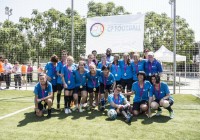 "It emphasises the importance of female football in order to include people with disabilities and seek an international collaboration between football and Para sports and games."
EU Erasmus+ programme
Introduction
It's taken a long time for women's football to gain the acceptance level it currently enjoys, but it still has a long way to go. The elite level of the women's game has developed rapidly over the last few years.
For the vast majority of the last 40 years, the focus has been almost exclusively on the men's game, following the trend of able-bodied football. But times, societies and attitudes move on and as a young IF we do not want to just be spectators to the global growth of the women's para-sport.
Whilst other sports have focused on utilising mixed-gender participation as a way to create opportunities, IFCPF have taken the time to speak to female players and non-players to get their feedback and insight for the game they want to play.
Through a plan for CP Football (Female), we are proud to be dedicating our efforts to well targeted investment and capacity building, to achieve more than parity and play our role to help promote and grow the female format of our sport everywhere, for everyone.
Collaborative Partnership
Through this invitiative project, IFCPF brings together a key group of partners, each with their own strengths, skills and experiences to contribute to the future development of the female game.
IFCPF
The Football Association (Cerebral Palsy Sport)
Federacio Esportiva Catalana Dels Paralitics Cerebrals (FECPC)
Georgian CP Football Federation (GCPFF)
Koninklijke Nederlandse Voetbalbond (KNVB)
SPIN Sport Innovation
South West CP FC
Cerebral Palsy International Sports and Recreation Association (CPISRA)
Results of the project
First international collaboration on the development of CP Football (Female)
This project will be a landmark project for CP Football (Female), CP Football generally and Para sport, bringing together all partners for the most effective and efficient development of CP Football (Female). Not only will the project itself have a huge impact, but the collaborative nature will bring about a culture change in CP Football and inspire future projects throughout the sport both through and separate from EU funding support.
The project will provide an evidence-based approach to the development of CP Football (Female), and verify the real need for the development of the sport. Currently it remains difficult to convince some stakeholders to begin development or invest, however with the outcomes of the project, the real demand will be showcased along with the project tools developed for stakeholder use.
CP Football (Female) activity
Female CP Football will take place in even more countries and regions due to the implementation of this project, directly creating further participation opportunities as part of the knowledge gathering activities. This initial activity will bring about a substantial multiplier effect once the tools and learning are share with the 40 plus members of IFCPF, 80 plus countries playing CP Football and further stakeholders of all the project partners.
Alike regular football, CP Football is regarded as a dynamic, fast moving sport, which is skillful and entertaining to everyone who spectates and follows the game. Football requires minimal resources, even at the very top level of the game. For this reason CP Football presents a very low cost and manageable sport which is low effort and resource dependent to start and maintain in new countries/regions.
Social inclusion and positive life changes
The EU coordinated activity on gender equality in sport policy was started in 2010 by the EU Council. In the Council conclusions on the role of sport as a source of and a driver for active social inclusion on the role of sport as a source of and a driver for active social inclusion, introduced the objective of encouraging gender equality in sport. This project aims to address sport in connection with gender roles, as set out in The Council of Europe Gender Equality Strategy 2018-2023, understanding how to create opportunities for female players to engage equally to males in the sport of CP Football.
The same benefits identified above will be enjoyed by all the project partners, helping them to deliver female specific CP Football opportunities to offer gender balance in their programmes and utilise limited resources in the most efficient way. Due to the open nature of the project and its outcomes/products, organisations linked to the partners and the entire football and para sport worlds will benefit.
The project seeks to use sports in tackling the problem of social integration of children and adolescents with motor disabilities, by raising their awareness and that of other relevant stakeholders (sporting bodies, families, physical education teachers, psychologists, physiotherapists) about CP Football (Female).