2020-03-12
Olympic IF Chief Medical Officers congratulate IFCPF initiative
News
IFCPF's new Temporary Concussion Substitution (TCS) Policy was shared with members of the International Olympic Committee (IOC) Medical meetings in Monaco on Wednesday 11th March.
The International Paralympic Committee's (IPC) Medical & Scientific Director, Dr. Peter Van de Vliet, presented IFCPF's new Temporary Concussion Substitution (TCS) Policy at the IOC Medical Meetings in Monaco.
As part of his presentation on different para sport specific medical updates, Dr. Van de Vliet gave the attending International Federation (IF) Chief Medical Officers (CMO) an overview of the world's first Temporary Concussion Substitution (TCS) policy for football.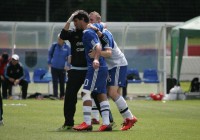 The Temporary Concussion Substitution (TCS) policy was introduced in January 2020 for all competition sanctioned by IFCPF, making Cerebral Palsy football the first format of football to bring about such a change. Concussion in sport has been a hotly-debated topic in recent years, and football has come under particular scrutiny given the high-profile nature of the game.
Dr. Van de Vliet had the following to say:
"On behalf of the entire group of Olympic International Federation Chief Medical Officers, I would like to congratulate you on this initiative. The entire group hopes this might be the final push for other parties to consider a similar ruling."
IFCPF Head of Medical, Dr. Osman Ahmed was pleased with the news stating:
"It is great to hear that our Temporary Concussion Substitution policy has been shared to a wider audience. We are looking forward to working collaboratively with the International Paralympic Committee in the coming years on efforts to improve concussion care in Para Sport and and hope that this approach to concussion management will be replicated in mainstream football in the near future also."
As part of IFCPF's ongoing work in the area concussion to protect medical health and athlete safety, we are working with Bournemouth University's Faculty of Health and Social Sciences to undertake further research into the impact of this new policy.