2016-11-02
NSW reign supreme in Paralympic 7-a-side Championships
News
The New South Wales Paralympic Football State Team have clinched their 12th National Title with a 3-0 win over Western Australia at the 2016 National Paralympic 7-a-side Championships held at Valentine Sport Park.
It was an end to end match much like their earlier group stage match-up that ended in a 2-2 draw. In front of a full crowd at Valentine Sports Park, host team New South Wales were far too strong for their opponents. The game was locked at nil-all in the early exchanges until the Blues hit first blood just before half-time. Golden Boot and Man of the Match star Jack Williams scored a fantastic goal past Western Australian goalkeeper Chris Barty that sent the home fans into raptures. Just after half time and Williams bagged his brace while Ben Atkins finished off the match with the third that capped off a memorable few days for the victorious NSW squad. Queensland Coach Jay Larkins echoed the voices of many players, supporters and coaching staff regarding the tournament which was well received by all.
"This is by far the best National Paralympic Football Championships tournament I have ever been involved in. A big thank you to Football NSW and FFA for putting on such a wonderful tournament." - Victorious NSW Captain and Pararoos Vice skipper Chris Pyne was overwhelmed with excitement after the New South Wales team took out the silverware.
"These are the best bunch of lads I have ever had the privilege of playing with, for eight years we have won this trophy now and it comes down to the commitment, hard-work and friendship between a great group of players," said Pyne. "A huge thanks to Football NSW and FFA for putting on brilliant tournament, this is how it should be every year."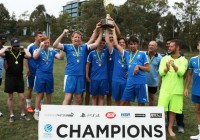 Pararoos Head Coach Kai Lammert said after the match that he was really delighted with the standard of all games played over the last four days.
"Everyone has raised the bar this year and we had quite a few players who are pushing for selection into the Pararoos training camp next year," said Lammert. "The future of the Pararoos also looked bright with some very talented young footballers impressing the coaching staff. Thanks to Football NSW for hosting this tournament for the first time. It was a very well organised and the standard of refereeing was exceptional. "Congratulations to all teams participating in the tournament and to NSW for taking out a record 8th title in a row and 12th title since 2004."
There were a number of notable spectators in the crowd to witness the tournament's finale, with the likes of FFA Head of National Performance Luke Casserly, Blacktown City Council Counsellor Julie Griffiths, Head Pararoos Coach Kai Lammert and Pararoos Ambassador Claire Falls all presenting trophies.
"We would also like to say thank you to Football Federation Australia for the awards and Four Four Two for their donation of 12 month subscriptions to the magazine," added Lammert.
Final Rankings
2016 National Paralympic 7-a-side Championships Award Winners 2016 National Paralympic 7-A-Side Football Champions - New South Wales
Silver Medalist – Western Australia
Bronze Medalist – Queensland
Other Awards:
George Tonna Medal – Best & Fairest – Gold Medal Match – Jack Williams (NSW)
Best & Fairest – Bronze Medal Match – Robbie Christie (QLD)
Golden Boot Award – Jack Williams (NSW) – 11 Goals
Best Goalkeeper – Chris Barty (WA)
Player of the Tournament (as voted by all coaches) – Christian Tsangas (VIC) QLD
Player of the Tournament Awards:
Player of the Tournament – Robbie Christie NSW
Player of the Tournament – Ben Atkins VIC
Player of the Tournament – Christian Tsangas WA
Player of the Tournament – Nicholas Prescott Combined States
Player of the Tournament – Tom Goodman (SA)
Images
Images kindly shared by Rob Stott from Creative Pics Photography Services