2016-10-22
Australia gets ready for National Paralympic 7-A-Side Football Championships
News
National Paralympic 7-A-Side Football Championships
The National Paralympic 7-a-side Football Championships are being held from the 27th to 30th October 2016, and have increased from 4 teams for the 2015 Championships to 5 teams in this years.
The tournament schedule is available in the photos section of this page.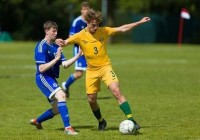 Football NSW is locked in to host the 2016 National Paralympic 7-a-side Football Championships at Valentine Sports Park from the 27thto the 30th of October.
Paralympic 7-a-side football state teams from across the nation are set to battle it out claim the rights to be named the national 7-a-side football champions. With the tournament previously held in Coffs Harbour, Football NSW is thrilled to be hosting the fantastic tournament at the end of this month. States playing in the tournament include:
New South Wales (defending champions)
Queensland
Victoria
Western Australia
Combined States Team (Australian Capital Territory and South Australia)
Tournament Director and Pararoo Team Manager David Campbell is looking forward to the tournament being held at the home of Football in NSW for the first time.
"I am excited to see many new young players being nominated in the sides this year and he tournament is turning out to be one of the closest competitions in years. Every team has current members of the PARAROOS in them.
"Football NSW have been brilliant in their support for not only the tournament but also the development of Paralympic 7-A-Side Football across the country."
Paralympic 7-a-side football is played in the Paralympics with the Pararoos narrowly missing out the chance to play in Rio this year. 7-a-side football is for anyone who has a physical impairment such as cerebral palsy, acquired brain injury and symptoms resulting from stroke. The Pararoos coaches will be in full attendance over four-day tournament to identify the best players to get the chance to represent their country and play in the 2017 world championships in Argentina.
Pararoos Head Coach Kai Lammert cannot wait for the tournament to get underway.
"I am looking forward to the National Paralympic 7-a-side Championships at Football NSW this year. It's a great opportunity for the national coaching staff to see the current Pararoos, but also to identify new and upcoming talent for national teams.
"We are delighted to run a "finding the next Pararoo" come and try football event just before the final on Sunday and I can't wait to coach all the young footballers together with the tournament ambassador Claire Falls and some of the current Pararoos."
"The tournament is the first step on our "road to Argentina" next year. The Pararoos qualified for the World Championships in September and the Nationals are the first opportunity to impress the coaching staff ahead of selection for the 14 player strong squad next year."
Queensland
The Queensland Paralympic State Team will be attempting to go one better at the 2016 National Paralympic 7-a-side Football Championships starting next week.
Queensland, to be captained by Jarrod Larkins-Law, will again be a strong contender after falling 1-0 to New South Wales in last year's decider.
The nine-man squad contains plenty of Pararoos experience in Larkins-Law, Robbie Christie, Angus MacGregor and goalkeeper Jared Eiby, while Stacey Sarago-Ah Kee took part in a national team training camp earlier this year.
Rockhampton teenager Luke Warwick is a newcomer to the team.
Head Coach Jay Larkins, who will be assisted by Football Queensland's Sarah Willington, believes Queensland can bring an end to New South Wales' dominance.
"We're always a chance. I believe in myself, I believe in the squad I have and you just do your best," Larkins said.
"Ultimately, while everyone is thinking they should win, New South Wales scored a goal with five or six minutes to go in (last year's) final and we went down 1-0.
"Yes we're up against it but you never know.
"Now that we have the governing body in Football Queensland supporting us we can get ourselves into the same arena as what New South Wales have. The success they're having is from a lot of hard work.
"Their elite program is one of the best in the country and happily now we can say with the Brisbane Paralympic Football Program being available for these guys we're only a couple of steps behind."
As well as providing a platform for players to reach the highest level, Larkins' growing Brisbane Paralympic Football Program (BPFP) – which is celebrating its 10th anniversary in 2016 – welcomes people of all ages and abilities to get involved in sport.
I love the game of football and for all the years I've been involved I've never seen a rule that says you have to be of a certain ability to partake in the game," he said.
"I think every football club should have an area where for once a week for an hour anyone kid who can't make the grade can come along and be part of a club, be part of a community sports program.
"I'm lucky I'm getting that at the BPFP and at all the other programs we've created, and now a lot of Football Queensland clubs are coming board.
"We're very patient. We just hope that everyone who supports us stays as patient because it doesn't happen overnight. But I can guarantee with all of the support we're getting it will happen.
"From the inclusive side, I think 2017 will be one of the most successful years we've had."
SQUAD:
1. Jared EIBY, 5. Luke WARWICK, 6. Robbie CHRISTIE, 7. James BERINGER, 8. Peter BYRNE, 9. Declan HART, 11. Angus MACGREGOR, 13. Jarrod LARKINS-LAW (c), 15. Stacey SARAGO-AH KEE
Head Coach: Jay LARKINS
Assistant Coach: Sarah WILLINGTON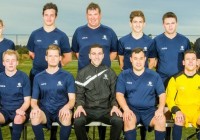 Victoria
A 12-man squad made up of three Victorian Pararoos (Benny Roche, Cosimo Cirillo and Christian Tsangas) will also feature two debutants in Joshua Beekes (13 years) and Adam Torey-Toth (15 years).
Victoria kicks off its campaign against defending champions New South Wales on Thursday October 27, playing four matches across three days with finals to follow on Sunday 30 October.
Since joining the competition seven years ago, Victoria's best finish came in 2015, winning the bronze medal.
"The boys have been working hard in training and taking on board what we are teaching which is great to see," coach Seb Zancan said.
"We are most excited about the youth that we will be bringing to Sydney this year, with half of our 12 man squad being 16 years or under.
"This coupled with the experience of some of the older players including Victorian captain and Pararoo Ben Roche, will hopefully lead to a successful tournament. The future is bright for Victorian Paralympic football and we can't wait to give the boys an opportunity to show everyone what they are made of, and also to put their hands up for national selection."
SQUAD: Christian Tsangas (gk), Benny Roche (Captain), Josh Barry, Joseph Accetta, Nelson Gray, Brad Fisher, Cosimo Cirillo, Matthew Holland, Oran Jones, Josh Beekes, Adam Torey-Toth, Hayden Bognar.
Australia Pararoos Paralympic 7-a-side
To find out more about the Pararoos click here