2018-03-29
Landmark event for African CP Football
News
2018 IFCPF African Championships
In recent years, IFCPF have delivered CP Football courses in Sierra Leone, Nigeria, Kenya and South Africa, helping to support their knowledge and understanding to develop CP Football. Increasing understanding of classification, coaching, officiating and event management, it is key to the future success of CP Football that we invest in and mentor other people to help grow opportunity and participation.
As a legacy of supporting SASAPD with delivering their National Championships in 2017, the 2018 National Championships will also host the first ever African Championships. The 2018 IFCPF African Championships will feature national teams from South Africa and Kenya, both competitng for a place in the 2019 IFCPF World Cup in Madrid, Spain.
2018 SASAPD National Championships - CP Football
The SASAPD National Championships will feature 5 provincial teams for CP Football, along with many other sports such as Boccia, Cycling, Goalball, Judo, Para Athletics and Power Lifting.
Competing in a league structure, the 5 CP Football teams listed below will battle it out over two days of intense competition to see who will take home the gold medal.
2018 SASAPD National Championships - CP Football (Male)
Free State
Gauteng
Kwazulu Natal
North West
Western Province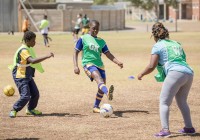 Female CP Football
During this event, South Africa will be the first country in the world to hold a Female CP Football National Championships. This championships will take place between two teams of players who were identified and coached through the IFCPF Female CP Football Development Grant programme in 2017.
2018 SASAPD National Championships - CP Football (Female)
SASAPD Team A
SASAPD Team B