2018-08-29
Female CP Football brings players together from across the world
News
Bringing together individuals from countries including Spain, Japan, Netherlands and Trinidad & Tobago, the IFCPF Female CP Football development group is encouraging female players worldwide to step onto the field and fall in love with the beautiful game.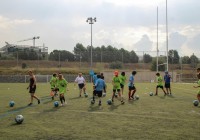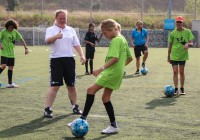 Overview of the camp and competition
Taking place at the CPISRA CP World Games, this important partnership is providing opportunities for members of both IFCPF and CPISRA to give female players of all ages the chance to play a fun and exciting ambulant team sport.
Day 1:
A hot day in Barcelona didn't stop our female players as their excitement to begin and anticipation of the days ahead got them talking and playing together straight away following the initial introductions. On the field, the coaches took the players through a series of skills based activities feeding into their first small-sided games. Enjoyed by all, there was a sense of great accomplishment after just the first session.
Day 2:
Eager to kick-off the second day, forming friendships and building their confidence, the personalities of each individual were becoming clearer and bringing out the competitive spirit. Linking their skills activities, practising more game situations showcased the strength of the ladies and their passion for the game, with lots of great football on display.
In the afternoon, the players all attended the IPC Agitos Foundation's Proud Paralympian programme, discussing key issues around their experience of para-sport and learning from some of the Proud Paralympian leaders.
Day 3:
Split into four teams, the players competed in a small-sided game tournament in preparation for their first international match on the following day.
IFCPF Female CP Football development group Chair, Francine Hook-Long said "It was a great moment to see how much improvement was made by all the girls, listening to instructions and working it into their strategies. Talking to each other on the field and working as a unit to get the job done."
The afternoon session was more relaxed, after visiting some of the other sports, the players played beach football to add a different yet fun dimension to their training.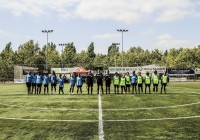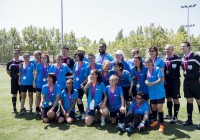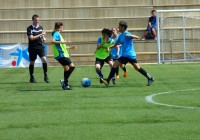 Day 4:
The female players arrived at Jaume Tubau stadium to watch Spain vs Brazil in the IFCPF World Cup U19, which was an experience in itself to see their first international match of CP Football. After the matchm the girls proudly took to the field. Team captains took the toss with international referees in charge and coaches in place. The first international Female CP Football match was underway in front of an appreciative crowd.
Two twenty minutes halves. The first, a hard fought exchange of ball ownership, a display of skill and team work, ended in a draw.The second half, no less exciting brought the curtain down on a 0-0 draw. A great end to this historic event.
The afternoon session brought fun awards to all responsible for this amazing event and pride to all lucky enough to witness.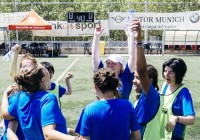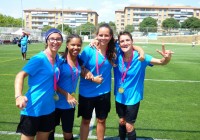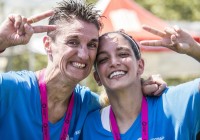 Conclusion:
It is obvious to say, we were all proud and excited to see Female CP Football off to such a strong and promising start.Most discussions revolved around building on the momentum and developing workshops and tournaments worldwide with the support of all our members and partners.
We look forward to the continuing the development of Female CP Football worldwide.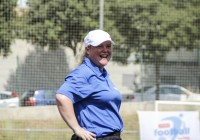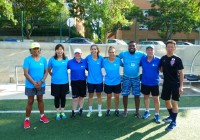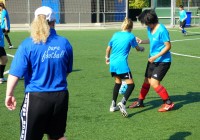 Interview with lead coach Leah Poole
How long are you been involved with the Female CP Football?
As a fairly young international federation, IFCPF started work to develop Female CP Football since we were established in January 2015. Personally, I have worked with CP footballers since 2015 but this will be my first time working with a group of female only CP footballers and I am really looking forward to it.
How did you been introduced to this world?
Having worked within disability sports for many years, I started coaching for the English FA at the South West CP Regional Talent Development Centre in England in 2015 and loved working with the players. We started a club last season purely for CP players with both a junior squad to develop younger players and a senior squad that I am Head Coach for that compete in the National CP league.
With your experience, did you think the Female CP Football is growing?
It's taken a long time for women's football to gain the acceptance level it currently enjoys, but it still has a long way to go. In a very short time, IFCPF now has more than 12 countries who have introduced mixed-gender football opportunities and at least 5 countries with Female CP Football programmes.
How important is this growing for the society?
IFCPF believes there should be inclusive and accessible playing opportunities available to everyone.
Talking about the games, Sant Cugat will be the first games with Female CP Football competition. What do you think about it?
This event will provide the first international platform for female players to develop and compete, giving players worldwide a great opportunity to showcase what is out there for female players. I think it is an exciting opportunity for the players to come together and hopefully inspire other females with CP to play and look for opportunities to play within their own countries.
The first two days you will manage a training camp. Can you explain us what is the main objective of the camp?
Involving players from a number of countries, cultures and backgrounds, the camp will be an opportunity to engage enthusiastic grassroots players who like nothing more than a kick about with friends or those who maybe wish to develop as a player and play competitively, with ambitions of representing their country.
Can you explain us what work will you practice this two days?
We will look to develop a range of technical and tactical skills to give the players a real playing opportunity. We will do look at the rules of CP football, work on team building and fitness and prepare them for the competition element of the camp.
Which are the next steps to keep growing the Female CP Football?
We are working with our partners and member organisations to offer a range of opportunities for players at all levels, especially the development of Female CP Football. It is our goal that through a range of initiatives and awareness raising, our CP Football family can grow the game, and number of female players enjoying it. In 2019, IFCPF will deliver regional Female CP Football events to stimulate participation within the game and provide opportunities at a more localised level.