2020-07-08
🎮 FECPC CUP - First eGames Solidarity Tournament!
News
FECPC Cup
"FECPC Cup" is a charitable tournament for Playstation 4, Fifa 2020.
The competition will start on Monday the 13th and is open to all who want to join in.
So, an easy, funny and risk-free tournament, perfect for these days!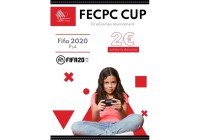 Charitable tournament
The registration has a price of 2 euros per player and all the benefits will be dedicated for the investigation and development of the CP Female Football by FECPC.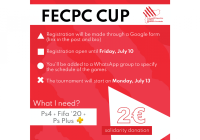 What I need to play?
To be part of the FECPC CUP you need to have:
FIFA 2020 game + Ps4 (Playstation 4) and Ps Plus(Playstation Plus).
Ps Plus is the subscription programme of Ps4 to play online with your friends.
How can I register to play it?
It is a simple and fast process. You only have to fill this form: https://forms.gle/prFJRUFKHBDdwc2r6 and make the payment to the bank account that we provide at the end of the form. Easy! Finally, we will add you to a Whatsapp group to explain the competition format and rules and to share the schedule of the games.