2020-07-07
From Athletics to CP Football – Heather Jameson
News
Heather's story about her successful switch from athletics to CP Football and how she wants to become a role model for women with CP.
"There are so many girls out there that just want to play football"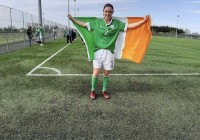 Football was always her number one sport, but Ireland's Heather Jameson competed at the London 2012 Paralympics as a sprinter. Only being 15 at the time she reached personal bests, some of which stand until today. She was unable to qualify for the Rio Olympics in 2016 due to an injury and ended her athletics career in 2017. Her old love football came around the corner when CP Football became a real possibility for her. Resulting in her playing for the Ireland CP Football Development Academy at the Dublin Tournament in May 2019 she was named Player of the Tournament, a title she holds dear.
The story of Heather Jameson starts in Garristown, in the county of Dublin. As a right-side hemi she never experienced she wasn't able to join in.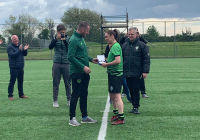 "My parents were fantastic growing up. They pushed me to try everything and get involved. They wouldn't let me sit it out. Wouldn't let me say: 'No, I can't do that'. I'm very mobile with my CP, I can do virtually anything. I don't let it hold me back or let it stop me from doing anything. It has proven that in my later years the ability to try everything comes from my younger days when I tried everything. I really jump into everything with two feet."
Heather works for the Football Association of Ireland (FAI), at the reception desk in the main office. She tells us how she found a job there.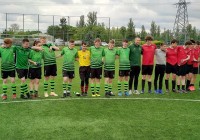 "I was working close by the national sports campus, helping kids. Doing a lot of work in the national indoor arena. A job opportunity came then, at the FAI, took the opportunity and it has been fantastic ever since. It has helped me with my coaching badges, develop my skills. Given me an opportunity to train with the women's senior team as well. And ultimately helped me to get back into CP Football."
As a child football was always her number one sport.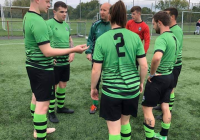 "I always played, since I could walk, I could play football. I have played since I can remember. I played pretty much every sport growing up. Athletics, football. I played at my local club, Ashbourne United. When I was old enough to join a team, I played there. I joined another club later, which was close by. I'm currently training with Ashbourne again. I'm involved with the CP Football development academy."
The Paralympic Games
Although football was her greatest love, she made it big in the sports of athletics. She participated in the 2012 London Paralympics.
"I started in athletics in primary school, it was just something all the kids were doing. I got involved in local clubs. It turned out that at the local club was another Paralympian, Lisa Callaghan. She had actually just competed at the Beijing Paralympics in 2008 when I joined the club. She knew straight away that I had Cerebral Palsy. She talked to my mother and invited me to an open day."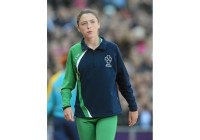 "I went, loved athletics, loved sprinting and long jump. Did a lot of events until I was thirteen. When I got to that age I thought: okay, I have to pick a couple. And sprinting definitely stood out as the best and the biggest opportunity. I then met with Paralympics manager James Nolan, he spotted me, picked me out and put a lot of time in me. In the run up to London I started to go away to competitions abroad. To experience what could possibly be the opportunity that became available."
"My mom travelled everywhere with me, because it was a fantastic opportunity. Amazing experience. Then London 2012 itself for anyone that would be a dream come true. Especially at that age for me it was fantastic. It was very overwhelming for someone so young."
Though Heather was young at the time, only fifteen, she remembers it as a great feeling.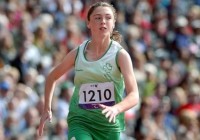 "It was so fantastic for me. Everyone was very aware of how young I was, how overwhelming it was for someone so young. Everyone really helped me reach my potential at that moment, in the games. It was my moment to shine and I definitely took it. It was something indescribable. In that atmosphere, with the top athletes in the world. At the Paralympics you are running on the same track that Usain Bolt has. It's a privilege. To wear the green vest, that was even sweeter. To represent my country means the world to me. To be able to do that across any sport, any ability is something truly magical."
Heather managed to perform at her best at the Paralympics, recording personal bests in the long jump (which still stands today) and the 100 meters. After the Games she kept participating in athletics.
"When I came back I competed until 2017. Throughout that time I tried to qualify for Rio, which unfortunately I was unable to do. I suffered an injury two years earlier. I was just slightly of the mark unfortunately for Rio and the following year I kind of fell back in love with football. CP Football became a real possibility for me and I decided to focus my energy on CP Football - at that time I was in college - and really pursue that avenue of my career. That's where I'm at now."
"It feels like coming back to normal now. I've come back to normal and I want to bring CP Football to that level where it should be and where it can be. I have been playing CP Football since the end of last year. I'm not back at it that long, but I have come a long way."
Dublin Cup
In May 2019 Heather participated in the Dublin CP Football Tournament, where she was even chosen as the Player of the Tournament.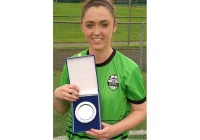 "That was fantastic. The tournament as a whole was absolutely phenomenal. We didn't get the best result, but the whole tournament, every game, every player was so enthusiastic, everyone was so happy. It was such a great thing to be a part of. And then to be named as Player of the Tournament, that was absolutely perfect. It has definitely been one of the best events I have ever been involved in. It was really a fantastic tournament. I really hope it will develop to more in the future."
Her background in athletics is very helpful on the pitch.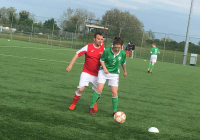 "It's definitely a huge advantage, I do have a lot of speed and can take off quite quickly. You know, with CP it would be a struggle, and with CP Football especially, people forget about the running and the ability to move off the ball. So I'm very lucky that I have that agility and that pace."
"I'm quite strong and fast. I play in defence. I rely on my ability to read the game. Obviously because I'm quite small, I could be easily overpowered sometimes playing against men or boys. I am still strong, I use my strength to the best of my ability."
Role model
Now 22-year-old Heather wants to be a role model for women with CP. She wants to develop CP Football for women in Ireland.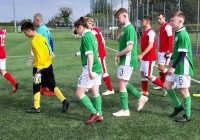 "Football is everything for me. I would do anything to further myself in football and to drive female football as a whole. CP Football is such a small niche, but it can be such a fantastic thing. I would love to drive it, so that it comes up to the level of male CP Football. I definitely think there is opportunity."
"I know for a fact that there are many girls out there who just want to play football. They have Cerebral Palsy, they want to play football, they want to be comfortable in their environment. I'm very conscious that not everyone is confident or happy to play with boys, or may not have the opportunity to do so in their country or in their club. If I can find a way to give them an opportunity to play football comfortably and to showcase their ability would be absolutely fantastic."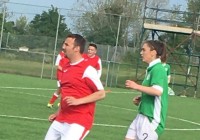 "Unfortunately there is not a female group at the moment. Purely because we are unaware of the many women with CP. We need to get the word around that there is a CP development academy. And it is open to male and female. And we are trying to encourage females to be patient. I know myself, I know that anyone I see or know of has spread the word too. There is a fantastic opportunity there. There is this incredible opportunity to change so many people. To grow the sport in general."
Heather has lots of plans and ideas, her ambition seems endless.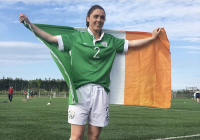 "We currently have a junior development academy and a senior development academy and the national senior team. A goal would be to have a female CP Football development academy. That's definitely a drive for me."
"Connect with people and realize you are not the only female CP Football player. There's tons of us in each country. There's hundreds of us in this country, it's just a case of finding them and letting them know this is available to them. It is a huge opportunity to help and come along to do their part in growing female CP Football."