2015-06-24
CP Football World Championships - Day 8
News
DAY 8: AS IT HAPPENED
Another great day of football saw the winners and runners-up of the groups take part in the Quarter Final stage of the competition.
St Georges Park was once again bathed in sunshine for the opening game of the day between Group D winner Netherlands, and USA who finished second in Group C.
In a game that could not have been much tighter, Netherlands broke the deadlock shortly after half-time with a fine finish by Jeroen Schuitert. USA fought back strongly and were awarded a penalty, which was slotted by David Navarro Garza, to take the game into Extra Time.
With no score in the first period of Extra Time it appeared to be heading into penalties until substitute Peter Kooij popped up to send Netherlands through to the semi-finals. The game finished Netherland 2-1 USA (AET).
The second game of the day was an all-South American affair with Brazil taking on Argentina.
Brazil started the stronger and took an early lead through Jose Carols Monteiro Guimarães, and Jan Francisco Brito da Costa quickly added a second. Brazil continued to dominate and Brito da Costa added his second, and Brazil's third, shortly before half-time.
The second half was less eventful with Brazil having to wait until the 54th minute before adding their fourth of the match, and with that progress safely through to the semi-finals. The game finished Brazil 4-0 Argentina.
At 4.30pm it was the home nation in action as they took on Russia who inflicted a resounding 5-0 defeat to England, and progressed to the semi-finals with consummate ease. England looked to give the home crowd something to shout about by winning a place in the final four, but when faced with stopping the formidable Russian goal scoring machine, they fell short.
England's goalkeeper Giles Moore kept the hosts in the game by producing some fantastic saves as the aggressive Russian attack constantly looked to test him but goals from Pestretsov, Albegov, Ramonov, Potekhin and Kuligin meant the game ended Russia 5-0 England.
The last game of the day was Ukraine v Republic of Ireland both competing for the last Semi-Final spot. Once again there was good support for Republic of Ireland.
Goals from Yevhen Zinoviev, Artem Krasylnykov and a brace from Volodymr Antoniuk set up a tantalising last-four tie with Brazil. Final score was Ukraine 4-0 Republic of Ireland.
Today's result mean the next games for the teams, all to be played on Friday 26 June, are as follows: Argentina v Republic of Ireland (10:30), USA v England (13.00), Brazil v Ukraine (16:30) and Netherlands v Russia (19:00)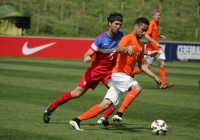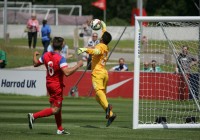 NETHERLANDS 2 - 1 USA (AET)
The Netherlands beat USA 2-1 to advance to the semi-final of the Cerebral Palsy World Championships thanks to super-sub Peter Kooij's strike deep into extra-time.
This result means Marcel Geestman's men face either world champions Russia or host nation England as they pursue a route to the final on 28 June, with USA facing the losers of the aforementioned fixture.
It was a timid start from both teams in the first quarter-final, as the sun beat down on match pitch one at St George's Park.
After much probing, the first chance fell to Iljas Visker who saw his back-heeled attempt roll past the post. Marthell Vazquez in the USA goal looked well beaten by the Dutch striker's clever attempt.
Kevin Hensley had his first dig at goal after 17 minutes. He found himself in acres of space as his side counter attacked, but he could only sting the palms of George Van Altena.
Hensley had the best opportunity of the half eight minutes before the interval.
A precise corner found the head of the number 10. His header went straight at the Netherlands keeper, but bounced back into his path and he fired over.
It should have been an opener for the United States.
The sides went in evenly poised at the break. Holland saw a lot more of the ball but USA had the best of the chances – an entertaining if scoreless first half.
Jeroen Saedt thought he had given his team the lead early in the second half.
His thunderous effort deflected off a USA player before it hit the crossbar and fell safe. Visker headed over when he was unmarked at the back post shortly after.
Seth Jahn replaced Tyler Bennett in the 37th minute as the USA looked to freshen things up, but two minutes later his team were behind.
It was Jeroen Schuitert who broke the deadlock. The defender arrived onto a loose ball on the edge of the area and placed it into the top corner of Vazquez's net with finesse – the perfect reward for a significantly better start to the second half.
USA suffered a massive blow after going behind, as Hensley was caught late and had to be replaced a result. Mason Abbiate came on in place of the States' top scorer.
The loss of their talismanic forward did not seem to affect the States, and as the game approached the final ten minutes they drew level from the spot.
Van Altena felled Jordan Weise in area, a challenge that earned the Netherlands goalkeeper a booking.
Linesman Tom Elliott flagged for the spot-kick that David Garza despatched to score his first goal of the tournament.
As added time approached Garza could have won it for the States.
With seconds remaining he headed just wide from a Jahn throw-in. He will look back at that moment and think what could have been.
At the other end Visker had an attempt of his own. His acrobatic effort could only find the arms of a grateful Vazquez.
It was 1-1 at full-time and the game progressed into the allocated 20 minutes of extra-time.
Netherlands introduced a fresh face for the additional period – Stephan Lokhoff came on for Minne De Vos.
Both teams went all-out in the first half, but it was USA who dominated.
Adam Ballou had the pick of the chances when he headed wide from an unmarked position at the back post.
Garza and Abbiate also had opportunities for the Red, White and Blue, and Lokhoff also went close for Holland.
At the halfway point of extra-time, the man who was to settle the contest came on.
Kooij replaced Visker, who had been unable to add to his impressive goal tally.
The substitution paid dividends.
With just two minutes left on the clock Kooij sent a left footed effort into the corner of the USA net to send his side through to the semi-final with a 2-1 victory AET.
Netherlands
Team: George Van Altena (GK), Jeroen Saedt, Jeroen Schuitert, Minne de Vos, Lars Conijn (C), Iljas Visker, Joey Mense
Substitutes: Stefan Boersma (GK), Teddy Witjes, Peter Kooij, Rik Rodenburg, Stephan Lokhoff, Guido Floors, Daan Dikken,
Scorers: Schuitert (39"), Kooij (78")
Booked: Van Altena (47")
USA
Team: Marthell Alonso Vazquez (GK), Gavin James Sibayan, Tyler Allen Bennett, Jordan Andrew Weise, Adam Kyle Ballou, Kevin Tyler Hensley (C), David Navarro Garza.
Substitutes: Keith Edward Johnson (GK), Bryce Zachary Boarman, Seth David Jahn, Mason Dane Abbiate, Michael Robert Moore.
Scorers: Garza (47")
Booked: Garza (48"), Weise (80")
Details
Match officials: Jorge Barbisan, Tom Elliott, Minesh Gupta, Jon Burridge
Attendance: 111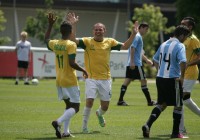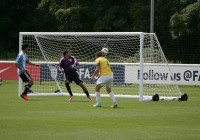 BRAZIL 4 - 0 ARGENTINA
This game saw South American footballing giants Brazil and Argentina competing for a place in the last four of the Cerebral Palsy Football World Championships.
The match was dominated by Brazil who were three goals up by half time thanks to a commanding team performance with two goals from Jose Carlos and one from Jan Francisco. They had scored 18 goals in their three group games and were in confident mood. Brazil went on to win the match 4-0, rarely troubled by their opponents throughout.
Within two minutes Brazil had taken the lead Jan Francisco's shot was saved by Argentinian keeper Gustavo Nahuelquin but the ball dropped to Jose Carlos who made no mistake in slotting the ball home. Just 5 minutes later Brazil had doubled their lead with Jan Francisco's exquisite free kick just outside the Argentinian penalty area deflecting past the despairing Nahuelquin.
The Brazilians continued to create chances with Evandro's shot saved by the keeper before Jan Fransico had his powerfully driven shot from distance parried away for a corner.
Argentina's best chances of the first half came in the 27th minute when Jaime Ezequiel's free kick from the right was met by Figuera but his header was gratefully caught by Marcos in the Brazilian goal.
As the half drew to a close, Jan Francisco picked up the ball on half way before expertly lobbing Nahuelquin from just inside the Argentine half, perhaps underlining why he is regarded by many as the best player in CP football.
The pattern of the second half was similar to that of the first, with Brazil dominant in possession for long periods. They created a number of opportunities as they remained patient in their build up play. Jose Carlos went close from short range in the 44th minute and moments later the same player lifted the ball just over the bar having been put in by Jan Francisco.
In the 54th minute Brazil finally added a deserved 4th goal when Jan Francisco's effort was initially blocked. The ball broke to Ronaldo who squared the ball to Jose Carlos to score his second goal of the game.
Argentina went in search of a consolation goal but it was not to be. The result means that Brazil can contemplate a semifinal clash with the winner of the game between Ukraine or the Republic of Ireland who play later today whilst Argentina head into a positional fixture against the loser of that match.
Brazil
Team: Marcos Dos Santos Ferreira (GK), Jonatas Santos Machado, Fernandes Celso Alves Vieira (C), Jose Carols Monteiro Guimarães, Ronaldo de Souza Almeida, Evandro de Oliveira Gomes de Souza, Jan Francisco Brito da Costa,
Substitutes:, Felipe Rafael da Silva Gomes, Ubirajara da Silva Magalhães, Igor Romero Rocha, Wanderson Silva de Oliveira, Wesley Martins de Souza (GK), Diego Delgado da Silva, Gilvano Diniz da Silva (GK)
Scorers: Monteiro Guimarães (2", 54") Brito da Costa (7", 30)
Argentina
Team: Gustavo Nahuelquin (GK), Claudio Figuera, Pablo Matias Molina, Maximiliano Sebastian Fernandez, Ezequiel Anibal Jaime, Mariano Andres Morana, Alberto Alabarce
Substitutes: Mariano Cortes, Rodrigo Adolfo Luquez, Matias Agustin Bassi, Rodrigo Eloy Lugrin, Duncan Coronel, Matias Fernandez, Matías Salvat.
Booked: Morana (6"), Molina (30")
Details
Match officials: Scott Henry, Hayley Ives, Ashley List, Kyunyong Park.
Attendance: 159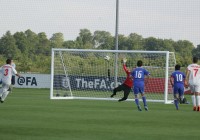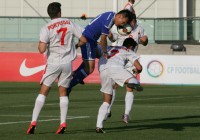 RUSSIA 5 - 0 ENGLAND
Russia inflicted a resounding 5-0 defeat to host nation England, and progressed to the semi-finals with consummate ease.
England looked to give the home crowd something to shout about by winning a place in the final four, but when faced with stopping the formidable Russian goal scoring machine, they fell short.
Straight from the kick-off Russia pressured their opponents. They forced a mistake from the English defence which nearly gifted their opponents a dream start.
Russia – the world champions and pre-tournament favourites - soon carved open a brave England defence in the sixth minute, as Viacheslav Larionov slid the ball across the goal and Dmitrii Pestretsov met it to give his side an early goal lead.
England's goalkeeper Giles Moore kept the hosts in the game by producing some fantastic saves as the aggressive Russian attack constantly looked to test him.
In the 25th-minute Russia were granted an opportunity to double their lead from referee Carlos Dias, as he gave a penalty for a foul on Pestretsov by James Blackwell. The spot kick was clinically converted by Georgiy Albegov.
England were reduced to playing long passes up to Jake Brown and Matthew Crossen, which were comfortably cut out by the Russian defenders.
The favourites seemed to be happy to go in to half-time with a two-goal cushion, until Eduard Ramonov added to England's woes and to his side's tally with a third moments before the interval.
The start of the second half saw England start the brightest and he came close to scoring through Michael Barker in the 36th minute. His powerful header was spectacularly tipped over the bar by Russia's goalkeeper Vladislav Raretckii.
England's fighting spirit was dealt a sucker punch in the 38th minute in the form of substitutes Alexei Borkin and Ivan Potekhin, who combined to put Russia four ahead.
Yet again the deadly duo threatened the England goal, only to be thwarted by the England goal frame in the 48th minute.
Potekhin rounded up the scoring in the last minute of the game, and confounded England's woes.
Russia will now go head-to-head with the Netherlands in what proves to be a mouth-watering quarterfinal clash.
England will look to bounce back with a victory against the United States in a positional play-off on 28 June.
Russia
Team: Vladislav Raretckii (GK), Eduard Ramonov, Dimitrii Pestretsov, Lasha Murvanadze (C), Georgiy Albegov, Viacheslav Larionov, Alexander Kuligin
Substitutes: Aslanbek Sapiev, Alexey Tumakov, Alexey Chesmin, Ivan Potekhin, Guram Chkareuli (GK), Zaurbek Pagaev, Alexei Borkin
Scorers: Dimitrii Pestretsov (6"), Georgiy Albegov (25"), Eduard Ramonov (30"), Ivan Potekhin (39"), Alexander Kuligin (51")
England
Team: Giles Moore (GK), Mathew Crossen, Jack Rutter (C), Martin Sinclair, Michael Barker, George Fletcher, Jake Brown,
Substitutes: Harry Barker, Karl Townshend, James Blackwell, Oliver Nugent, Ryan Kay (GK)
Bookings: Michael Barker (27")
Details
Match officials: Carlos Dias, Hector R Bondia, Adam Panter, Keith Stroud
Attendance: 208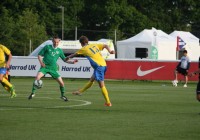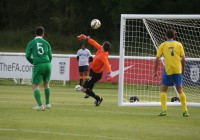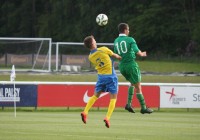 UKRAINE 4 - 0 REPUBLIC OF IRELAND
A well-drilled Ukraine eased into the semi-finals of the Cerebral Palsy World Championships after defeating a spirited Republic of Ireland side 4-0.
Goals from Yevhen Zinoviev, Artem Krasylnykov and a brace from Volodymr Antoniuk set up a tantalising last-four tie with Brazil.
The Ukrainians took the lead with their first attack; Krasylnykov whipped a pinpoint cross to the far post where Zinoviev was waiting to plant a header into the top corner.
It wasn't long until Ukraine captain Antoniuk began to pull the strings; he teased his way past Luke Evans before squaring the ball for Vitalii Romanchuk to tap home a second goal inside the first six minutes.
The creators of the first two Ukraine goals almost linked up to produce a third inside 10 minutes; Krasylnykov fed a beautiful through ball into the path of Antoniuk, but the latter could only toe-poke his effort wide.
A fabulous interchange between goal-scorers Zinoviev and Romanchuk resulted in the former rattling the Republic of Ireland crossbar.
The Irish were then denied by the woodwork themselves; Gary Messet fired a pass towards Dillon Sheridan, leaving the striker to produce a clever flicked effort which clipped the outside of the post.
Ukraine thought they should have had a penalty when Krasylnykov was felled by Irish goalkeeper Simon Lestrange, but the referee was unmoved. However, the ball fell kindly to Ukraine skipper Antoniuk and he slammed home into the empty net to give Ukraine a commanding three-goal lead going into half-time.
Republic of Ireland offered some encouragement to their fans after the interval; Eric O'Flaherty found Jason Moran unmarked inside the box, but he struck the ball first time on the volley when he probably would have been better served taking a touch.
Sheridan and Messett also had efforts, but neither could seriously test Ukraine shot-stopper Kostantyn Symashko, who remains unbeaten in the tournament.
Antoniuk put paid to any Ireland revival when he added his second of the game just shy of the 50 minute mark; a typically well-disguised pass from Krasylnykov found the midfielder, who didn't give Lestrange a prayer with a nonchalant finish from close range.
A well-worked free-kick routine allowed substitute Stanislav Podolskyi to have a strike from distance, but he couldn't work the 'keeper. Despite not being able to add to their tally, they saw the game out with consummate ease.
Serhii Ovcharenko's side will expect a much tougher test when they meet the well-fancied Brazilians in their semi-final encounter on Friday.
Ukraine
Team: Kostyantyn Symashko (GK), Vitaliy Trushev, Yevhen Zinoviev, Taras Dutko, Vitalii Romanchuk, Volodymyr Antoniuk (C), Artem Krasylnykov,
Substitues: Oleh Len, Edhar Kahramanian, Denys Ponomarov, Dmytro Molodtsov, Stanislav Podolskyi, Bohdan Kulynych (GK), Artem Sheremet
Scorer: Yevhen Zinoviev (3"), Vitalii Romanchuk (6"), Volodymyr Antoniuk (22") (47")
Republic of Ireland
Team: Simon Lestrange (GK), Joe Markey, Luke Evans (C), Eric O'Flaherty, Gary Messett, Dillon Sheridan, Jason Moran
Substitutes: Brian McGillivary (GK), Darragh Snell, Paraic Leacy, Carl McKee, Aaron Tier, Peter Cotter, Ryan Nolan,
Details
Match officials: Kyunyong Park, Keith Stroud, Ashley List, Tom Elliott
Attendance: 88