2015-06-24
CP Football World Championships - Day 9
News
DAY 9: AS IT HAPPENED
Day 9 saw two extremely close fought contests and one large victory, as the fixtures for the 9th – 16th positions continued.
The first fixture saw Japan, who despite defeat on Tuesday were buoyed by their first goals of the tournament, take on Venezuela, who were narrowly defeated by Canada.
The goals began as early as the 2nd minute with Jessi Junior Yari Villegas for Venezuela scoring a fine individual goal. A second was added for the South Americans by Richard Alexander Mogollon Melendez, before Japan scored on the stroke of half-time through Shotaro Osawa to bring themselves back in the game. The second half was a much tighter affair, but despite some sustained pressure from Japan, Venezuela managed to hold on for their first victory with the match ending Venezuela 2-1 Japan.
The second game of the day saw Scotland take on Australia. Scotland came out on top, recording back to wins in the tournament after putting six goals past the Australians.
Scotland opened the scoring in the second minute through Jamie Mitchell and dominated from then on in. Two goals from Barry Halloran and a further two from Kyle Hannin saw them sweep the Australians aside and Ian Paton also grabbed a goal to ensure eleven goals in two matches for the Scottish and two clean sheets. They will now play in the 9th/10th place pay-off as the game finished Scotland 6-0 Australia.
The final game of the day saw an extremely close conest between Canada and a Portugal team who recorded their first win of the tournament on Tuesday against Japan.
Portugal goalkeeper Rui Rocha was kept busy in the first half and was forced into a number of fine saves from Trevor Stiles' shots and could do nothing but watch as Sam Charron hit a firm shot against the post early on for the Candians. Almost immediately after the break, the deadlock was broken by Stiles, who hit a thunderous drive into the top right hand corner of the Portuguese net. Portugal pressed for an equaliser but could not find one and the match ended Canada 1-0 Portugal.
NORTHERN IRELAND v (bye)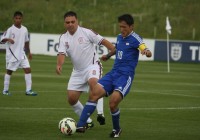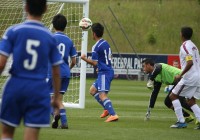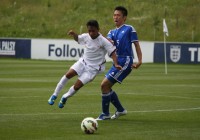 VENEZUELA 2 - 1 JAPAN
Venezuela defeated Japan 2-1 to end the Asian's tournament and book their place in the 13th placed play-off match against Northern Ireland on Saturday.
Goals from Jessi Junior Yari Villegas and Asdrubal Olivares Mora cancelled out Shotaro Osawa's strike to give the Venezuelans their first victory of the tournament.
Venezuela took the lead after two minutes following a Japan corner; Villegas raced the length of the pitch leaving Japan in his wake before firing across Yanagi Hideyuki into the far corner.
Villegas almost doubled his tally, but his powerful strike from close range was sensationally tipped onto the post by Japan goalkeeper Hideyuki.
Venezuela goalkeeper Frank Renee Pineda Teran's long punt up field was tipped over the bar by Hideyuki, had it dropped under the bar it would have been a shoe-in for goal of the tournament.
Saul Eliecer Torres Villegas released Richard Alexander Mogollon Melendez down the right flank, his near post cross was met by Olivares Mora who hammered his effort into the roof of the net to give the Venezuelans a commanding lead.
Japan pulled a goal back on the stroke of half-time with a well-taken Osawa goal. The striker controlled Ryuta Yoshino's through ball before shooting straight at Pineda Teran, fortunately the ball rebounded kindly to the striker and he reduced the deficit.
The second period began slowly with neither side creating much from open play. Olivares Mora struck a terrific free-kick from 30 yards, but his effort was wonderfully saved by an inspired Yanagi.
Japan were next to be presented with a chance from a set-piece; unfortunately Yoshino's thunderous effort was punched away by Pineda Teran.
It wasn't until the 50th minute that Japan were able to conjure up a real goal scoring opportunity; a series of ricochets allowed Tetsuya Toda through on goal, but he couldn't find a way past Pineda Teran.
Japan captain Yoshino came close to a stunning equaliser in the last minute of normal time. But his finessed shot was pushed around the post by substitute 'keeper Marlon Alexander Bello.
But it wasn't to be for Japan, who finish 15th. But Venezuela have one final positional fixture against Northern Ireland to determine who finishes in 13th place.
Venezuela
Team: Frank Renee Pineda Teran (GK), Jessi Junior Yari Villegas, Daniel Enrique Sanchez (C), Richard Alexander Mogollon Melendez, Asdrubal Eusabio de Jesus Olicares Mora, Angel Evelio Molina Camacho, Saul Eliecer Torres Villegas
Substitutes: Gabriel Alfredo Medina Diaz, Marcos Tulio Cardenas Nieto, Peter Antoni Alvarado Gonzalez, Marlon Alexander Bello (GK)
Scorers: Jessi Junior Yari Villegas (2"), Richard Alexander Mogollon Melendez (18")
Japan
Team: Hideyuki Yanagi (GK), Taisei Taniguchi, Yuki Soma, Tetsuya Toda, Ryuta Yoshino (C), Tatsuhiro Ura, Shotaro Osawa
Substitutes:, Naoyoshi Kagayama (GK), Keisuke Kawabe (GK), Hiroto Takahashi, Yuji Yamada, Kazuhiro Kubo, Shou Kuroda, Tenma Inoue
Scorers: Shotaro Osawa (30")
Details
Match officials: Hayley Ives, Kyunyong Park, Jon Burridge, Minesh Gupta
Attendance: 184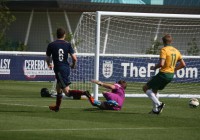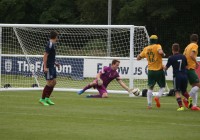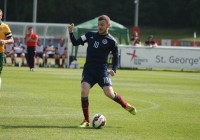 SCOTLAND 6 - 0 AUSTRALIA
Scotland comfortably secured back to back victories and a spot in the 9th/10th place play-off after a 6-0 thrashing of Australia.
It took them just two minutes to register their intent when Jamie Mitchell latched on to Captain, Jonathan Paterson's through ball, slotting the ball past the oncoming ChristopherBarty for the opening goal.
Two minutes later it was 2-0, with Mitchell this time turning provider, when his corner was met by Barry Halloran who headed powerfully into the net.
Despite being roared on by their vociferous support the Australians were unable to muster a chance of note, and it was no surprise when the Scot's added a third in the 22nd minute. This time it was defender Ian Paton who scored, after his long range effort deflected off Ben Atkins and past Barty.
At half-time Scotland introduced Kyle Hannin for Ross MacMillan, and he immediately made his presence felt, when after a surging run he played a one-two with Halloran before beating Barty with a shot at the near post.
Hannin and Halloran combined again for Scotland's fifth goal one minute later, with Hannin pouncing on a loose ball and passing it to Halloran, who turned and shot into the bottom right corner to seal his brace.
Australia tried in vain for a consolation goal and almost got one in the 40th minute when James Turner beat his man and rounded goalkeeper Craig Connell, but unfortunately for the Pararoos his left footed effort rolled past the post.
Hannin then secured his brace in the 56th minute when he unleashed a well-placed drive past Barty, after a good pass from fellow substitute Mark Robertson.
With 11 goals and two clean sheets in their last two outings, Andrew Smith's side head into Saturday's match with either Canada or Portugal optimistic of securing a 9th placed finish.
Scotland
Team: Craig Connell (GK), Martin Hickman, Ross MacMillan, Ian Paton, Jamie Mitchell, Jonathan Paterson (C), Barry Halloran
Substitutes: Blair Glynn, Lewis McIntyre, Mark Robertson, Kyle Hannin, Thomas Brown, Scott Martin (GK)
Scorer: Jamie Mitchell (2"), Barry Halloran (4", 36"), Ian Paton (22"), Kyle Hannin (35", 57")
Booked: Mark Robertson (42")
Australia
Team: Christopher Barty (GK), Benjamin Roche, Christopher Pyne, David Barber (C), Ben Atkins, James Turner, Zachary Jones
Substitutes: Jack Williams, Thomas Goodman, Connor Marsh, Jarrod Larkins-Law, Angus MacGregor, Cameron Gudgeon, Ned McCabe (GK)
Booked: David Barber (28")
Details
Match officials: Ashley List, Hector R Bondia, Carlos Dias, Jorge Barbisan
Attendance: 114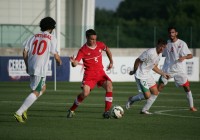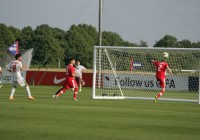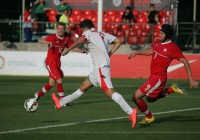 CANADA 1 - 0 PORTUGAL
Canada will face Scotland in the battle for ninth place after a sensational second half strike from Trevor Stiles guided them to a narrow victory against Portugal.
After enduring a frustrating first-half, in which Canada struggled to break through a resilient Portuguese defence, it took just two minutes into the second 30 minute period for Drew Ferguson's side to break the deadlock.
Stiles, who completely dominated the midfield with his bursting runs forward, testing deliveries and poignant physical presence throughout, played a neat one-two with Vito Proietti just outside of the box before unleashing a powerful right-footed drive that missiled into the top left-hand corner of the goal.
The Canadians had clearly stated their attacking intentions during the opening exchanges, striking the woodwork on two occasions in the first ten minutes of what was an exasperating half an hour for The Canucks.
On the first occasion, captain Sam Charron received the ball from Stiles before turning into acres of space inside the Portugal box only to hit the left-hand post when he looked destined to give Canada the lead.
Then, shortly after, it was Proietti who went agonisingly close to opening the scoring. Stiles was again the provider, this time whipping the ball across the box to find Proietti unmarked. The midfielder subsequently smashed the underside of the bar before the danger was eventually cleared.
In between those two chances, Portugal found an opening of their own.
Luis Ferreira's team relied very much on the counter-attack for the majority of the first-half with Canada confining Portugal deep into their own territory.
Captain Vitor Vilarinho broke forward on the counter, playing the ball to Tiago Ramos clean through on goal, but the striker completely missed the target.
And Vilarinho had his own chance as half-time approached. Breaking through on the counter-attack once more, the central midfielder looked certain to make Canada rue their missed opportunities, but his effort clipped the outside of the right-hand post and went out for a goal-kick.
That, however, was not before goalkeeper Rui Rocha had produced several heroics to deny Canada what would have been a deserved lead. Stiles went close with a dipping free-kick that was superbly parried over the bar by Rocha and Liam Stanley also had an effort brilliantly saved by the shot-stopper.
But the valiant Portugal, who finished bottom of Group B, were soon undone as Canada started the second-half just as they started the first-half; on the front foot. Portugal will take some consolation from the fact that very few teams would have been able to prevent Stiles' venomous long-distance strike from finding the back of the net, but they should have arguably closed the midfielder down much quicker than they did.
To their credit, Portugal kept going until the very end and even had a couple of clear-cut chances to equalise, most notably Ramos' 40th minute shot that hit the right-hand post, as Canada eased off the pressure to try and see the game out.
And, despite some nerve-wracking moments at the back, Canada held on to their slim advantage to claim a morale-boosting victory.
The result means that they will take on Scotland, who thrashed Australia 6-0 earlier on in the day, in the 9th/10th play-off. Meanwhile, Portugal will play the Pararoos in the fight for 11th place.
Canada
Team: Matt Brown (GK), Liam Stanley, John Phillips, Sam Charron (C), Vito Proietti, Trevor Stiles, Nick Heffernan
Substitutes: Yuri Woodfall (GK), Dustin Hodgson, Damien Wojtiw (GK)
Scorers: Trevor Stiles (32")
Booked: Sam Charron (60")
Portugal
Team: Rui Miguel Ferreira Rocha (GK), Ricardo Santos França, Rúben Miguel Sousa Oliveira, Vítor Emanuel Ribeiro Vilarinho (C), Pedro Filipe Fernandes dos Santos, Tiago Ribeiro Baptista Ramos, Lucas de Souza Semblano Pinheiro
Substitutes: Hugo Manuel da Silva Pinheiro, Vasco João Gomes dos Santos, Cláudio Filipe Ferreira Nóvoa, Tiago Carneiro, André Ricardo Silva Ferreira, Sérgio Manuel Silva Barros, Telmo Luís dos Santos Baptista (GK)
Booked: Vítor Emanuel Ribeiro Vilarinho (21"), Ricardo Santos França (58")
Details
Match officials: Scott Henry, Tom Elliot, Keith Stroud, Adam Panter
Attendance: 127