2023-04-07
Condolences on behalf of the CP Football family
News
IFCPF President Jan-Hein Evers has shared his condolences on behalf of IFCPF and the entire CP Football family on the devastating news of the passing of former CP Football player and Para sport Advocate, Eli Wolff.
"Such sad and shocking news to hear of the passing of Eli, much too young. One of the early players and drivers for CP Football in the USA, who continued to support our sport and dedicated himself to the inclusion of persons with disabilities in sport and society.
We send our love and thoughts to his young family at this very difficult time, as we reflect on the huge contribution Eli made to so many around the world."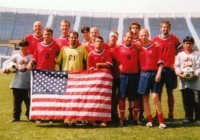 Article from US Soccer:
U.S. SOCCER MOURNS THE PASSING OF PARALYMPIAN AND DISABILITY SOCCER ADVOCATE ELI WOLFF WOLFF PLAYED FOR THE CP MEN'S NATIONAL TEAM FOR 10 YEARS, DEDICATED POST-PLAYING CAREER TO DISABILITY SPORT ADVOCACY
U.S. Soccer is mourning the passing of former Paralympian and disability sport advocate Eli Wolff. He played for the U.S. Men's Cerebral Palsy National Team from 1995-2004, representing the U.S. at the 1996 and 2004 Paralympic Games before dedicating his career to working for more inclusion in sport.
"Eli was a tireless servant to the game over many decades, first as a pioneering member of the Men's CP National Team, where he proudly represented the U.S. at the World Cup and two Paralympic Games, and then latterly as a voice of equality for all on multiple committees across the game," said Stuart Sharp, Senior Director of Technical & Grassroots in U.S. Soccer's Extended National Team Department. "Arguably, Eli made his most significant impact off the field, where he, through his tireless global advocacy work, aimed to provide everyone, no matter their background or ability, a place in sport that made them feel empowered and find joy. Everyone at U.S. Soccer has his family anchored in their thoughts, and we are sending an energy of strength in their direction."
Wolff served for several years as an athlete representative on U.S. Soccer's Disability Soccer Committee and was an accomplished leader in striving for access for athletes with disabilities. Most recently working as a sport management instructor at the University of Connecticut, Wolff co-founded Disability in Sport International, Athletes for Human Rights and the Olympism Project. He also worked with the Power of Sport Lab, the Inclusive Sports Initiative at the Institute for Human Centered Design and several other organizations focused on inclusion and the unifying power of sport.
During his career as an advocate for disability sport, Wolff helped to establish the ESPY Award for Best Male and Female Athlete with a Disability, worked to organize support for golfer Casey Martin in his U.S. Supreme Court case against the PGA and pushed for the inclusion of sport-related provisions in the United Nations Convention on the Rights of Persons with Disabilities.
Eligible for the Men's CP National Team after suffering a stroke at a young age, Wolff's 10 years with the National Team also saw him represent the U.S. at the World Cup for CP soccer and three ParaPan American Games.
U.S. Soccer sends its condolences to Wolff's family, friends, and all those in the soccer community whose lives he impacted.