2018-11-28
Australia and Iran qualify for 2019 IFCPF World Cup
News
By winning their third straight matches at the 2018 IFCPF Asia-Oceania Championships, both Australia and Iran have qualified for the 2019 IFCPF World Cup in Seville, Spain. The two teams will finish on the top op the table, granting them access to next year's title tournament. Tomorrow's match-up between the two top contenders can be considered as the gold medal match, because whoever wins will be crowned as champions.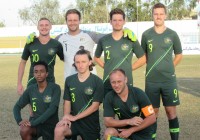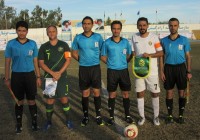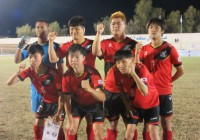 Beforehand it seemed to be an exciting match between Australia and Jordan, however the Pararoos performed excellently and overwhelmed Jordan with a easy 7-1 win. At half time the scoreboard showed 3-0. It was again Benjamin Roche, top scorer of Australia, who defeated the Jordan keeper four times. The goal for Jordan was scored by number 5 Mohammed Diabat. Australia can now look forward to the final game against Iran and Jordan will play for rank 3 against Thailand.
The team of Iran was simply too strong for the brave team of Korea. The players from Iran saved their energy for the final match against Australia and achieved an easy win. Top scorer of the tournament and captain of the Iranian team number 10 Abdolreza Karimizadeh scored 4 goals once again. His total in 3 matches is 12, an average of 4 per match. In the second half Korean number 10 Juno Jang scored a well-deserved goal. However, Iran continued to dominate the match and achieved a final result of 1-8.
The final two matches of the Asia-Oceania regional championships will be played on Thursday. Jordan and Thailand are up against each other for the bronze, at 18.00 Iranian time (15.30 CET) the big final between Australia and Iran will decide over who gets to be crowned as champions. South Korea have played all four of their matches, they finish fifth in the tournament.