2018-04-13
A professional approach to officiating
News
by Julia Meredith
Not everyone could say they are a researcher, professor, international referee, athlete all at one time, but for Dr. Skye Arthur-Banning, each is but a part of this life after his family. As the Head of Officiating for the International Federation of CP Football (IFCPF), he says that soccer officiating really began for him as a way to stay in shape for ice hockey.
As he continued to learn and grow as a referee, Arthur-Banning was very determined to practice the art of officiating and could see the advancements that were possible in the United States as soccer was growing rapidly. He was quickly promoted to a National Referee Tier 1 and was doing professional and semi-professional games routinely as well as University soccer games around the United States.
Upon seeing the game of CP Football in London 2012, Dr. Banning was so determined to get involved in the IFCPF, he even paid his own way to Toronto, Canada which was hosting the 2014 Americas Cup event. At that event, he experienced what he still says is one of this favorite memories of being a referee;
"In the middle of the first game, A player asked me to tie a shoe, I looked around thinking it was a prank." He explains that "I later learned that It is common knowledge for the referee in CP Football to tie the shoe of a players to keep the game moving quickly without holding it up." It seems to simply be a mutual respect between player and referee to provide this level of assistance for the game.
Arthur-Banning talks about how to stay unbiased in the game of soccer, "I'm there for the betterment of the game, I am there for the laws of the game, you want the game to be fair". Officiating has also taught him about fairness, equality and how to deal with different people in tough situations while still performing your best for every match. Arthur-Banning states he has recently heard that "well it's just CP football, can't anyone referee it", and he mentions that comments like that upset him to hear about an International Federation. He says that there is no such thing as "this is JUST CP football". He explains that IFCPF sanctioned events are high quality international football and the game, players and coaches deserve to have highly trainied referees giving their best performance. This should be true for any match, and especially international matches. With experiences officiating international teams such as Bolton Wonderers of the English Premier League or Cruz Azul of the Mexican First division, Arthur-Banning has said that you need to be 100% focused and have to take cultural differences and different views of the game as well as players and their views of perspective into account in creating a fair environment.
Arthur-Banning has officiated for over 25 years and has grown his skills as a result of the challenge. He has seen the sport change in many ways but he says there is still more to come. He believes that in the next five years, there will be more CP football development camps around the world as well as more of a drive and desire to getting involved at the Paralympic level. He sees the community of adaptive sports growing and being led by the likes of England, Ukraine and the USA who are clearly investing significant funding into adaptive sport at all levels. The athletes themselves are also getting the recognition they deserve as is evidenced by the billboards, commercials and even sponsorships forming for Paralympic athletes.
When Arthur-Banning is not traveling the world for officiating, he is building a Paralympic soccer team at Clemson University where he helped establish he first scholarship program for Paralympic soccer players in the United States as well as hosting camps for military veterans to get back into their communities as football coaches. Any veteran with Post Traumatic Stress disorder to Traumatic Brain Injury is allowed to apply for the camps at Clemson.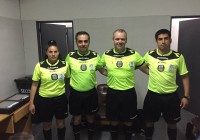 Upon taking over as the Head of Officiating for IFCPF, Arthur-Banning made a pledge to work to professionalize the international referees appointed to the list of officials. Of the 16 officials currently on the list, 13 of them have officiated professional soccer in their home countries at some point in their career, including past and current FIFA referees who want to stay involved in international events. This level of experience and professionalism can only help to improve the quality of referee teams IFCPF sanctioned matches are overseen by. In addition, he has implemented a fitness test requirement, a game reporting requirement and an expectation that officials are analyzing their games at IFCPF tournaments and events in their home country. He states "before each major tournament now, officials come together to review clips from previous IFCPF events, break them down and look to improve on our performances so that the teams are getting our best performance possible."
While the Head of Officiating is a challenge for anyone, the combination of the experience he has had with disability sport, his connections with the IPC and his passion for referee development, Arthur-Banning looks forward to continuing to move CP football forward in international development and this includes appointing the first female referee to the list and looking to grow the number of referees in Africa and Asia as the game grows. He says that while it is a tall order to continue to grow the game, and officials who oversee the game, it is one he is honoured and excited to continue to work toward in support of all of the IFCPF staff and administrators, coaches and players who all work so hard together in enjoying this beautiful game.