2018-04-23
Growing the game for female players
News
Female CP Football Development Grants
In July 2017, IFCPF announced the opportunity for our members to apply for funding to deliver dedicated projects to develop Female CP Football opportunities in their country.
"IFCPF believe that it is our responsibility to foster unity within the Cerebral Palsy Football family and to use the sport of CP Football to promote solidarity, regardless of gender, ethnic background, faith or culture. There should be inclusive and accessible playing opportunities available to everyone."
Five member organisations were successful in their application and subsequently awarded the funding to deliver projects during the second half of 2017. IFCPF are extremely pleased to see the fantastic developemnt being undertaken and the opportunities that have been created in these five countries to provide opportunities for all in CP Football.
England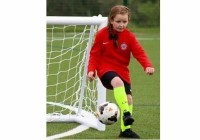 | | |
| --- | --- |
| Female CP Players | Coaches |
| 17 | 3 |
Project Overview:
Enagement within CP Football Clubs
Five CP Football Clubs across England are now engaging female players into their mixed gender development opportunities.
Two Development Days were promoted to those currently involved in football in a PAN disability setting and those who are not currently engaged in football. The sessions were promoted via CP Sport, the National CP Football League and the clubs social media platforms, websites and newsletters. The information was also shared with national charities such as CP Teens, Hemi-help and Scope.
The Development Days provided a 2 hour training session which included warm up, skill development, game experience and a cool down. Coaches who want to develop female football were also there to observe the session and to meet the participants. The coaches then provided information on regular training and competition opportunities at their clubs.
Engagement within schools
Players aged 12-16 years from Oakwood Academy, who piloted a project with CP Sport to develop more females playing sport, have accessed CP Football events and sessions.
Megan who plays for Stoke City Cerebral Palsy FC says:
"Don't give up doing what you love. Let's all try and get more girls playing football so we can play for England one day!"
The project has demonstrated that there is need for Female CP Football. There are females currently playing football in PAN disability teams where they are not getting the correct coaching and technical development wanted or needed. There needs to be more funding to allow more development days to take place to continue to raise the awareness of Female CP football.
Female CP Football Development Plan
8 football teams across England (4 north, 4 south) have the opportunity to include female footballers in training and competition. Dispensation from the FA can be applied for by the teams to allow females to compete mixed gender.

Throughout the 2017/18 season clubs will work to engage more female players with an aim to create 1 north and 1 south female CP team. Working towards a 4v4 or 5v5 playing format, we therefore aim to identify 8-10 players in year 1. We aim to bring together players engaged in the development programme to attend the Female CP Football development Camp and Competition at the 2018 CP World Games in Spain.

Using insight and feedback from clubs, the league will then support clubs to develop 1 further team in each region for 2018/19 season to provide a fixture programme in the north and south, with a final at the National CP Cup in 2019.

Working in partnership with the FA, the National CP Football League will aim to feature Female CP Football at the FA Disability Cup in 2019.
Kenya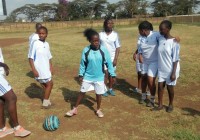 | | |
| --- | --- |
| Female CP Players | Coaches |
| 10 | 2 |
Project Overview:
We have already introduced Female CP Football projects to two special governments schools, to nurture younger generation by holding training sessions, once a week. This will enhance equality in football for Cp women in Kenya.
Female CP Football Development Plan
Creating platforms and sustainable football clubs in order to develop cerebral football team, in our country Kenya
Promoting rights of persons with cerebral palsy or those affected through sports community involvement advocacy
To create a platform that can empower Cerebral Palsy players with relevant information that can boost their life quality
Creating available opportunity for players to participate in cerebral palsy national and international football cup.
Building strong friendship ties with relevant stakeholders and other sports entities in the world and actively participating in activities that promote friendship to fight stigmatization among marginalized persons with disability
Maintaining a strong network of communication and participating to help make rescue and rehabilitation of Cerebral Palsy affected individuals a practical and strong system locally
Building of strong family support group for Cerebral Palsy in Kenya
Support persons with Cerebral Palsy where necessary equipment and means for mobility and health in order to enable them participate actively and effectively in the sport activities
Catalonia - Spain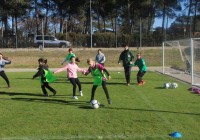 Project Overview:
| | | |
| --- | --- | --- |
| Female CP Players | Coaches | Volunteers |
| 10 | 2 | 1 |
Currently the teams taking part in FECPC regular competitions are gender mixed giving the opportunity to girls and guys to take part on it. Our idea is to keep on growing the number of female CP Football players to develop a team totally rostered by girls.
Nowadays there are collective sports were girls affected by brain injury or cerebral palsy can participate, that's why we want to take profit of the male sport structure to promote the female participation.
The FECPC counts now days with female players in regular competitions gender mixed playing for different clubs.
We are focusing our efforts on Barcelona and it's surroundings using our existing communication and recruiting ordinary channels with the suport and assistance from the FCF ( Catalan Futbol Federation) and the IFPCF.
Female CP Football Development Plan
Study the real participation and possibilities of Female CP Football in Barcelona and surroundings.
Realize meetings and workshops with families and physios from EAPS (Physic pedagogic attention teams at schools) to inform them.
Promote Female CP Football using social media, website, promotional activities and posters in schools as well as recruiting them from conventional football.
Start a new female CP Football team totally formed by girls, with regular training sessions and competing in some friendly matches.
South Africa
Project Overview:
The game of CP Football is rapidly gaining momentum in South Africa. This highly technical game is a Paralympic sport that caters for people with Cerebral Palsy disabilities. It is a game of a team activity.
Female CP Football is gaining popularity world-wide as a sport and a recreational activity for persons with disabilities.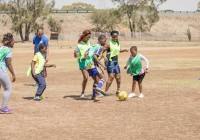 | | | | |
| --- | --- | --- | --- |
| Female CP Players | Coaches | Physios | Volunteers |
| 10 | 2 | 2 | 3 |
A Female CP Football Camp was held from 2nd to 4th December 2017
Female CP Football Development Plan
An ongoing project aimed at increasing awareness in each province in S.A., running workshops and demonstrations for capacity building, development of officials, technical officials and classification with assessment of the potential players.
Since Inter Provincial Gameshave been introduced in this sporting code, this is going to be our platform for Talent Identification and Development
Capacity building of officials in SA thus enabling us to host international events and reduce costs by having our very own officials. i.e. Referees
Trinidad & Tobago - Caribbean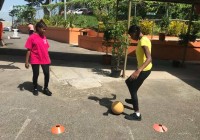 Project Overview:
One of our key objectives of this initiative is to increase the participation level of women and girls in the sport. The Kick Start program was implemented from October 7th to December 9th 2017. Conducted on a weekly basis for 1 hour and 30 minutes, 1 day a week at two institutions in both north and south Trinidad.
| | | |
| --- | --- | --- |
| Female CP Players | Coaches | Volunteers |
| 14 | 3 | 2 |
The Kick Start program was designed to provide opportunities for potential female CP football players to get into the game! With an immediate objective of increasing the number of female players in the sport, the Kick Start program was designed to develop the core competences of game playmaking and understanding over the course of ten (10) weeks.
A series of 10 activities were organised as weekly sessions for the Project.
Week 1 - Short Passing
Week 2 - First Touch
Week 3 - Dribbling
Week 4 - Running with the Ball
Week 5 - Shooting
Week 6 - Long Loft Passing
Week 7 - One Touch
Week 8 - Wall Passing
Week 9 - Defending
Week 10 - Possession
Because we are so new to the game and participation right now is low, we did five a side football on a smaller field. We broke the game into 4 seven minute quarters. We also found that starting at 1-1 gave a psychological difference to how the teams played as it signalled to them that they had one goal in the bag!
Katrina Primus - Female CP football Participant:
"I did not know we could play football too, especially because we have CP"
Clarence Sheppard - Assistant Coach CP Football:
"It is uplifting to see how excited these ladies were to play football like any other player. Looking forward to working more with them and developing a strong team"
The Project was a success as it allowed for the realization that football is not only for male CP players. Added to this we have been able to raise the interest of coaches and our national football federation which will hopefully give Women CP football more support.
Female football development plan
In an effort to continue further development of Cerebral Palsy Football with esteem focus on female football development, the Caribbean CP Football Association through PlayAble will continue weekly sessions at the identified institutions during 2018. By this action we hope to achieve a greater response to the inclusion of women and girls playing CP football and be able to participate in or host a developmental tournament within a year's time.