2018-12-03
We celebrate the abilities of people with CP on International Day of Persons with Disabilities
News
The role of people with Cerebral Palsy within the sport of CP Football is indispensible. They bring their personal experience, knowledge and love of the game to a sport which we all enjoy so much. In a sport like CP Football knowing what players go through, what they experience in life, is a huge benefit. That's why IFCPF have people with CP or an acquired brain injury in key places within the organization.

Below we introduce five of our valued representatives. James Murrihy (IRL) is the Athletes Representative on the Governing Board of IFCPF, Jorge Peleteiro Rubio (ESP) and Conny Fritsch (GER) are head coaches of their respective national teams, James Roberts (ENG) is a Trainee International Classifier and Igor Monteiro (BRA) is a CP Football referee.
James Murrihy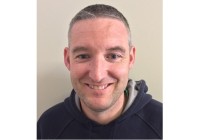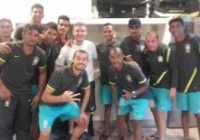 As the Athletes Representative on the Governing Board of IFCPF, James's role is to represent the views of our athletes on the board. He's a former Ireland player that played internationally between 1995-2010. He came into contact with CP Football when he was 10 years old and went to an open sports day hosted by Cerebral Palsy Sport Ireland.

"I tried out many sports but really enjoyed football", James explaines. "When I was 15 I joined the Ireland squad under Paul Cassin."

"I have played CP Football for 15 years. In my day to day job in Ireland I am a Sports Inclusion Disability Officer where I work to provide better opportunities for People with Disabilities as well as train and educate people on disability sport."

"My impairment most definitely gives me more of an ability in CP Football. One of the main parts of my role is to represent the players' views. I understand where they are coming from having been a player myself. I also believe having people with CP in various roles throughout our organisation is best practice. As the Athlete Representative I would like to see as many people as possible with CP working in our organisation."
Conny Frank Fritsch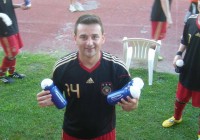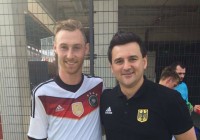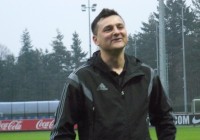 35-year old Conny Frank Fritsch has been the head coach of the German CP football team since June 2017. Before stepping into the role as a trainer/coach, he was a CP Football player team since the founding of the German CP football team in 2014. He also established the regional team of Bavaria in 2017, where he is head coach, player and head of the department.

"In the year 2005 I was seriously injured in a car accident and I had a bad brain injury" Conny says. "After recovering I was not able to play in a normal team with a high standard. So I started to look for alternatives and I finally found football 7-a-side."

"Before the accident I played professionally in Germany for the SpVgg Greuther Fürth, I played in the german youth national team and I won the german championships in 1999. After the accident and recovery I trained to become a professional soccer coach by taking UEFA C-/B-/A-levels. I think I learned a lot of my former coaches and I can give it to the team."

"Through my impairment it is easier to understand how the movements and coordination of the players are limited. In my opinion it is really great and also necessary that people with impairments have the opportunity to play for their countries and compete internationally."
Jorge Peleteiro Rubio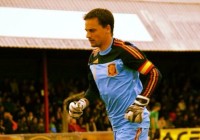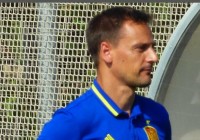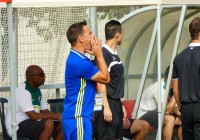 The head coach of Spain has earned his stripes as the former goalkeeper of the CP Football team of his country. Next to that he has been a trainer of football teams of people without disabilities in Spain's third division.

"I got involved in CP Football when I was very young and still an athlete. Now I still am, thanks to being a coach of our national team. I have been a trainer since 2011."

Jorge's experience as a high level athlete for 18 years helps him a lot. He's a trainer since 2011 with experience in both Football and CP Football. "It helps me a lot in my current role, because I know this world from within."
James Roberts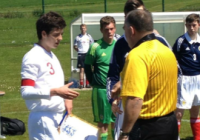 This medical doctor in the National Health Service also is a former international Cerebral Palsy football player. James is currently training to be an International Classifier for CP Football.

"I have been involved in CP football for 8 years", indicates James. "I have represented England in Home Nations and International Development Tournaments from 2010-2013 and I still play for CP United in the National CP league in England."

"I got into classification in 2016, whilst I was completing my medical training at university. I was invited to become a national classifier for the CP League by chairman Sam Turner. I was then invited to undertake International classification training at the 2018 European Championships in the Netherlands by Raul Reina, Head of Classification for IFCPF.

"I feel having Cerebral Palsy and having a CP football background helps me empathise with the athletes undergoing the classification process. I feel classification has provided an opportunity to combine my profession and my love of CP Football. I have thoroughly enjoyed my role as an international classifier trainee so far and I hope to classify in more tournaments in the future."
Igor Monteiro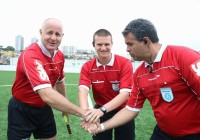 This Brazilian IFCPF referee is well versed. He's a physical education teacher and currently a Physical Education Doctorate Student at Universidade Federal de Juiz de Fora (UFJF) in Brazil. He has been an IFCPF referee since 2017.

"I've been a futsal referee in an amateur league (Liga Juizforana de Futsal) in my city since 2009", Igor mentiones. "At the Physical education graduation in 2013 Mr. Alvaro Quelhas, professor at University (UFJF) and a former FIFA referee, invited me to be a referee in the Brazilian CP Football Championships. After this, Mr. Alvaro Quelhas appointed me to be a CP Football referee (NTO) in Paralympic Games of Rio 2016. In the Paralympic Games I met the IFCPF-family and Skye Arthur-Banning appointed me to be an IFCPF Referee in 2017. This year (2018) I was referee in U19 IFCPF World Cup held in Sant Cugat, Spain."

"The experience in Brazilian amateur football and futsal helps me to make good calls. Having CP myself, it helps me to make certain calls (like the fouls). I think it's very important for CP Football to have people with CP as referees, coaches and sports managers. I would like to congratulate all people with CP in IFCPF in these different roles."