2018-12-05
Netherlands host their first ever female CP Football training session
News
Nine talented Dutch girls between the ages of 9 and 25 years old came to the National Sport complex of the Netherlands in Arnhem on the 17th of November to participate in the first ever Female CP Football training session of the National Football Association of the Netherlands, the KNVB. Team manager Gabriëlla, coach Wouter and the group enjoyed their training session of two hours next to the CP football boys U15 team. This included a serious warm-up, some technical skills training, tactical games and a final match 5 vs. 5. The cooling down existed of 30 minutes coordination exercises by physiotherapist Gus.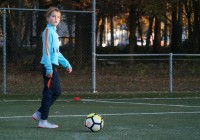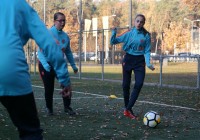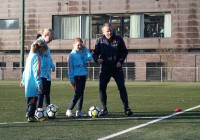 The girls where excited and a bit nervous at the same time. As soon as they were all dressed up in the clothes of the KNVB, they could not stop smiling. Luzdary took the lead and helped the younger players feel comfortable. She was also a participant of the first IFCPF Female CP Football Development Camp & Competition in Sant Cugat, Spain in 2018. Charlien also participated in the previous mentioned camp and has fallen in love with CP Football ever since!

New player Anne-Jet showed her amazing left-footed skills and got the attention of the coaches right away. Norah and Lyan, who both also play in a regular girls' team, showed some great tactical skills! Jara played in the centre and gave some beautiful passes to her teammates. Lisa, Jara's previous teammate at Only Friends Sportclub Utrecht, got some help of Gabriëlla and developed new skills during the practice. Also by learning from our dribble queen Fabiënne, who made sure that everyone, including Luzdary, was happy.

And last but not least: Ying Hua, the most curious one of the group, used this unique opportunity to ask all her questions to the head coach and physiotherapist of the KNVB CP Football selection teams. Everyone felt very welcomed by the other coaches and team managers.

The KNVB asks if you think you belong to the KNVB CP football women's team and if you want to participate in the activities of 2019, make sure you get in contact with Gabriëlla. And for all other countries out there: the Dutch would love to challenge you for a match! Check the link on the right for contact information.