2017-04-15
Successful workshop delivered at South African National Championships
News
IFCPF conducted a CP Football workshop alongside SASAPD's Nedbank National Championships. In total around 23 participants took part in the course, including coaches and physiotherapists. In addition, players from a number of teams were involved to support both coaching and classification elements.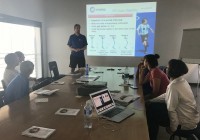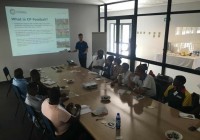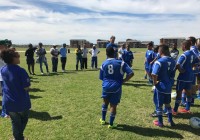 South Africa last participated in the Intercontinental Cup (now known as the World Championships) in 2013, but has since only been holding national championships. With a strong national programme, including teams from 7 provinces, the future for the national team is very bright with lots of gifted young players.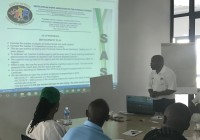 National Convenor Lucky Tsatsane has now put in place a development plan, with the idea to participate in World level competitions in the near future.
IFCPF President, Mr Jan-Hein Evers:
"On behalf of the IFCPF Board, we were extremely pleased to work with SASAPD as hosts for this CP Football Workshop.
The International Federation for CP Football, is responsible for and dedicated to the development of CP Football worldwide and creating opportunities for players with cerebral palsy, or a related Neurological condition, to participate in football at national and international level.
This important CP Football Workshop gives us the opportunity to support the development of CP Football in South Africa and the African region. We hope the workshop participants are inspired and motivated, and continue to support and enable individuals in South Africa to participate and reach their full potential in CP Football.
South Africa already has a a great foundation in CP Football, holding regular national championships and competing in the Interncontinental Cup in 2013, but we hope to see further positive developments in the future, including participation in international tournaments."
Thank you note from SASAPD President: Ms Moekie Grobbelaar
"If you always put limits on everything you do, physically or in any other way, these limits will extend into your work activities and your everyday life. There are no limits. There are only plateaus, on which you should not remain, but go beyond. ~ cf. Bruce Lee ~
True words if you are working with a team of champions. As the newly elected president of SASAPD, I would like to extend my heartfelt gratitude to each and every person involved in making the 2017 Nedbank National Championships for the Physically Disabled and Visually Impaired a huge success.
To the LOC of Port Elizabeth, thank you for all your hard work and dedication in the preparation and execution of an accomplishment of note. Thank you too for all the efforts of the people behind the scenes and for the willingness of the volunteers.
To Nedbank, our proud sponsor and partner, who partnered with SASAPD for the 26th time, making sure that the games became a reality; thus giving so many athletes hope to fulfil their dreams of becoming true champions! This became abundantly clear in the 3 world records and 9 African records that were broken, not to mention all the many SA records in all the different sporting codes.
To all the delegates from IFCPF and IBSA who came to South Africa to host workshops on coaching and classification, thank you for your time and commitment in bringing this much needed and valuable information to our people."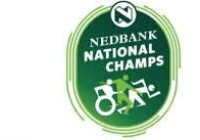 NEDBANK NATIONAL CHAMPIONSHIPS 2017 - CP Football
The National Championships for CP Football included 7 teams from different provinces of South Africa. Competing in the group stage through round robin games, the top two teams from each progressed to the second round for cross-over matches.
A very successful competition finished with Kwazulu Natal as eventual winners and taking home the gold medals.