2017-10-05
Mariana Damasio first female player to compete in Brazilian Championships
News
The Brazilian Championships of the 2nd Division took place in São Paulo last week, September 25th to 29th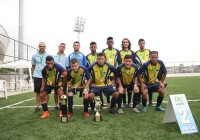 Eight teams competed for the first place, which would guarantee one slot in the 1st Division next year.
The team of CETEFE-DF, from Brasilia, became the champion, beating the team of CADS-SP, from Suzano.
The third place was the team of APBS Corinthians (SP), from Santos.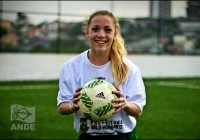 Interview with Mariana Damasio
One of the highlights of the competition was the team from Belo Horizonte, APEBH (MG), which has in its squad Mariana Damasio, who acquired cerebral palsy after she is born in a premature birth, became the first woman to play an official competition of CP Football in Brazil.
"I used to play regular futsal among the boys, when I heard about the parasport, and started to play the CP Footbal in a team in Belo Horizonte, as it is a great passion, and made me so motivated to restart to play again, as I could see a great chance to be paralympic athlete."
"I think we have to do the first step and if we do that, we'll be able to get more athletes. It's important that we understand that football is for everyone, that the female football has a great chance of being developed here in Brazil and worldwide and that the CP Football is big open door for us so we can stimulate other girls and women to come and play. There is the possibility! There is how to do it!! They just need to want and to believe!"
"It's very special!! It was something that was unexpected, unthinkable, that has never come to my mind. It's a great pleasure, a great privilege"
"I think we have so much to develop, to add to the CP Football. We need more girls. The more girls who show interest in take part, the better. We already have power enough to make it grow more and more, with the support we have, which is fundamental! May they come and believe in their dreams. We're going to make this happen!!"
Watch the interview with here