2017-10-01
First Football Championships for children with CP in Almaty Kazakhstan
News
On September 26th-27th, Almaty hosted the First Football Championship of Kazakhstan for children and youth players with cerebral palsy and neurological conditions. The Championship was attended by six teams aged from 10 to 15 years.
The Championship, held for the first time not only in Kazakhstan, but throughout Central Asia, was
implemented with the support of the Football Federation of Kazakhstan (FFK).
Click here to see a video of the First Football Championship of Kazakhstan for CP Football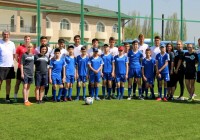 Earlier this year, Kazakhstan received a grant from the International Federation of Cerebral Palsy Football (IFCPF) to conduct an educational course for coaches and classifiers in CP Football. The coaches from different regions of the country were trained by IFCPF Tutors, and received certificates for their participation in the workshop.
The result of this workshop was the creation of the first Football Championship among children and boys with cerebral palsy and neurological conditions. The FFK plans to form the Kazakhstan national youth team with CP to take part in international tournaments.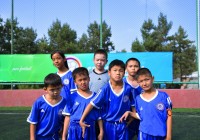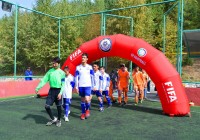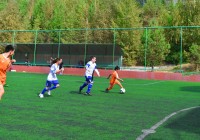 ''For children with the CP diagnosis, football is one of the methods of rehabilitation. Look at the results of CP Football in Europe, there are many football players improving in their education by improving their health. Some athletes now play mainstream football, as their health has strengthened. At the same time, social tasks are being solved by football, children can find themselves in society thanks to football. They can work in the future as managers or administrators of football teams, coaches, as well as doctors and other specialists in-demand in sports"
said Chingiz Temerkhanov, the chief specialist of the FFK grassroots football department.
According to his opinion, CP Football is a socially significant project for the country. Thanks to the opportunity for children with CP to be trained in football, their health is strengthened, moreover the inner morale and self-confidence increase. During two days of the Championship, the children enjoyed the event: they had professional equipment, played and cheered up their team, did their best. This makes special children believe in themselves, communicate, make friends, motivates to continue to play football, to stay in a team, to play.
Football for children with cerebral palsy has peculiarities. In the teams from each side 7 people play, but not 11 as in professional sports. This is a kind of football, specially created for people with disabilities. It is included in Paralympic Games programmes, and also officially recognized by UEFA and FIFA. The rules of the game are simplified: the field is much smaller in size, there is no offside rule, the ball can be rolled under arm into play. Each half lasts for 30 minutes, a 15-minute break is made between the halves.
The FFK have made a great contribution to CP Football, for its part, provides players with football equipment, inventory, pays salaries to coaches and makes every effort to develop this type of football in our country.