2016-05-12
Kenya take their first step in developing CP Football
News
In the very nice and friendly country of Kenya, IFCPF course instructors delivered a 2 day workshop for 17 participants about Coaching and Classification in CP Football. The participants included physiotherapists, coaches, administrators and members of the Kenya National Paralympic Committee.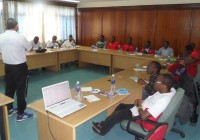 Also taking part were 10 motivated CP players. With the 10 CP players we could practice classification and training sessions. The course was held at a very nice accommodation "Kenya School Off Monetary Studies".
The participants did a great, after two days they already recognised most of the classes on the field, and they also delivered good training sessions. We hope and think that Kenya have a good future in CP Football and a good foundation to hopefully soon take part in international tournaments.
The main goal for Kenya is to play in an international tournament in the next two years. Together they are making good plans of how to get there.
Altogether the course in Nairobi (Kenya) was a great success, they have a long way to go but everyone is very motivated to make the right steps.
Rene Jurrius and Paulo Cruz, as Technical Instructors, would like to thank the organisation (Kenia Paralympic Committee) for the very good days with a very fine organisation and a great accommodation.
Also we want to thank the very motivated participants and wish them all the luck and wisdom to start with CP Football in Kenya.
If you would like to find out more about the Workshop and Coach Education delivered by IFCPF please click here.
What the participants said:
"Thank you for the people who have made it possible, now we can come with a National team in Kenya."
"The workshop was done well and they should come again. It is a dream come true for us. God bless you dear friends and colleagues."
"It was very informative and an eye opener for me in classification of CP football."
"I would personally give my gratitude for the two very able facilitators, Paulo and Rene, for a job well done. Big thank you to the world body."
"The workshop was the best, I did enjoy the two day experience. Wished it would be for one week. It was fun."
"Very, very knowledgeable. Good presentation. Well illustrated, both in video and verbally, and in activity."