2019-02-16
Japan launches new Frame Football initiative
News
Over the weekend of 9th-11th February IFCPF was invited to Japan to deliver a training workshop to support Esperanza's launch of Frame Football and further develop knowledge of CP Football, with more than 100 people participated throughout the 3 days.
Frame Football workshop
The first event took place at Esperanza's E's Cafe, where IFCPF Secretary General / CEO gave a lecture about the history, rules and latest developments of Frame Football. Overall, there were more than 20 participants attending the lecture, mainly physiotherapists, coaches and university professors.
The game was invented in England, in 2014, and has been on the steady rise across the Para sports community. The sport was designed to cater for the needs of players who use a frame or support equipment for their daily mobility. Due to a level of impairment which falls between CP Football and Powerchair Football, many of these players didn't have a proper outlet to participate in sports.
Following the theory session, it was time for the main event with the first ever Frame Football training session and match in Japan. Ten young players were eager to play with the custom made Game Frames from Quest88.
Given, it was for all of the kids, the first time to play the Frame Football, everybody did extremely well. They were showing some spirited efforts despite the chilliness of the gym! All kids were fantastic but special mention has to go out to our youngest participant- Muyu-chan, who also happened to be the only girl player! Well done Muyu!
Finally, after the dust had settled, the first match ended in goalless draw. So, more to aim for next time!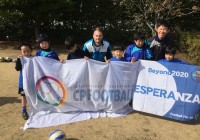 CP Football session and player meeting
Our guest lecturer was kept busy on Sunday as well. He gave CP-Football training and had a Q&A session with Esperanza kids, adult members and coaches at Yokohama Rapport Para Sport Center. The main points of discussion included the new CP Football classification system, CP Football current state of affairs and the future developments.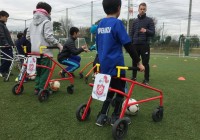 Kanagawa's Football Festival
The final day of Frame Football was on 11th of February. IFCPF, Esperanza staff and the young players gave a demonstration about Frame Football to all at the Kangawawa Football Festival, organized by Kanagawa Football Federation as an invitational event for football specialists. Besides an introductory lecture to physiotherapists, coaches and others involved in disability football, participants had also an opportunity to try the frames out.
Although it was a very cold holiday weekend it was a great start for the new sport. So we can take heart on the future developments of Frame Football. Most importantly, the kids enjoyed the events a lot and we made lot of inroads in physiotherapist networks and the Para sports community. Those aspects are of vital importance to make Frame Football a success story in Japan.
Last but not least Esperanza would like to thank Knights in White Lycra. An amateur international group of men & women who 'get fit & give back' through sport & social events. Thanks to their generous support the purchase of 12 custom made frames became a reality!