2021-06-25
IFCPF Classification Team international collaboration and research
News
The IFCPF Classification team have recently participated in international development meetings and generated a new piece of research on evidence-based classification.
During June, the IFCPF Classification team was involved in different international activities, including academic dissemination at an international symposium, participation in the first discussion about the 2015 IPC Athlete Classification Code, and publication of a new piece of evidence-based research on CP football classification.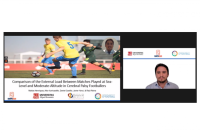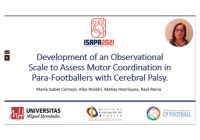 International Symposium of Adapted Physical Activity (IFAPA)
Two oral presentations were presented at the International Symposium of Adapted Physical Activity organized by the University of Jyväskylä, Finland. On this occasion, Classification Manager Matías Henríquez presented the study entitled "Comparison of the external load between matches played at sea-level and moderate-altitude in cerebral palsy footballers." Along with this presentation, María Isabel Cornejo, master student of the Miguel Hernandez University, shared their research titled "Development of an observational scale to assess motor coordination in para-footballers with cerebral palsy."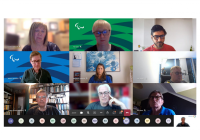 2015 IPC Athlete Classification Code Consultation
Our IFCPF Classification Director and Classification Manager participated in the consultation phase about the review of the 2015 IPC Athlete Classification Code. This instance had the goal of receiving feedback from Heads of Classification of International Para Sport Federations looking forward to the new code and international standards where IFCPF is looking to give significant support.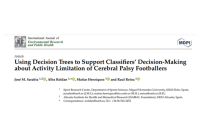 Research
Finally, a new piece of research on CP-football is available in the scientific literature where the principal results of this study are oriented to support the players' sport class allocation and the classifiers' decision-making:
Using Decision Trees to Support Classifiers' Decision-Making about Activity Limitation of Cerebral Palsy Footballers, authored by Jose Manuel Sarabia Marín, Alba Roldan, Matías Henríquez and Raul Reina. DOI: 10.3390/ijerph18084320