2021-07-12
Football for All - including children with CP
News
Denmark is gripped by football fever this summer. Many children and young people want to look like the heroes of the football team, and they throw themselves into summer football and football schools all over the country. But not all children have the opportunity to participate on equal terms with others.
Children with CP (Cerebral Palsy) have a hard time keeping up due to poor motor skills and often feel they have to give up their dream of playing football.
FC Storebællt in Denmark are doing something about this. In collaboration with the Elsass Fund and Comwell Klarskovgaard, they are holding a special football camp for children with cerebral palsy from all over Denmark.
Over 4 days at the end of July, FC Storebællt in Korsør is doing a football camp where children with CP can train and play football under skilled coaches, and where there will also be room for play and social activities, both for the children and the accompanying parents.
17 children and 17 accompanying parents from all over Denmark have signed up, and they can look forward to some exciting and educational days of football, play and interaction with other families with children in the same situation.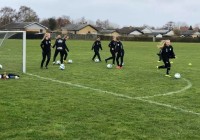 FC Storebællt is already the centre for CP football in Denmark. The CP department has an elite team CP FED for men, a CP team for women, a CP Talent team, and the club also administrates the national Danish CP football team.
FC Storebællt's chairman Rune Ravn says:
"I am happy and proud of this initiative, which will benefit an overlooked group of children. It's the first time ever in Denmark that a special football camp is being held for children with cerebral palsy, and it's completely natural that it's being held under the auspices of FC Storeb ællt. It is in great line with the club's values, and we already have skilled coaches with experience in CP Football."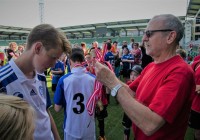 The CP Football Camp lasts from Thursday, July 29th at 17:00 to Sunday 2nd August at 14:00.
For questions, Chairman Rune Ravn can be contacted at formand@fcstorebaelt.dk or telephone. 50598982, and the press is welcome to contact CP-responsible Len Nossell, telephone. 21298649, to make an appointment to visit the camp.