2020-05-15
CP Soccer Goes Global
News
For the past 6 weeks every Monday-Friday, CP Soccer US and US Mens Para Soccer player Shea Hammond has conducted a daily training program for cerebral palsy players all over the country. Players affected by cerebral palsy, stroke or traumatic brain injury join Shea every day and train for an hour followed by a guest Q&A. Each day approximately 30-40 CP/stroke/TBI players all train online. On some sessions, players from as many as 24 states have joined the feed.
An impressive list of guests spend time with the players each day and answer some great questions from them.
The guest list includes, Greg Berhalter, Bruce and Kenny Arena, Sacha Kleijstan, Aaron Long, Lori Lindsey, Yael Averbuch, Jordan Morris, Graham Zusi, Nick Rimando, Megan Oyster, Brad Davies, Mens Para 7-a-side Head Coach - Stuart Sharp, Clemson University Para staff, Dr. Skye Arthur-Banning and FIFA referee Margaret Domka and all of the members of the US Mens Para National team past & present.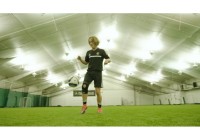 Taking it Global
This Saturday aided by his Coach/Father Ashley Hammond, Shea will be conducting a training session for teams across the globe.
"With a LOT of calling and emailing at strange times we have managed to get CP teams from every continent of the world to join us on Saturday morning for an historic CP SOCCER GOES GLOBAL training session", said Hammond
Teams or players from all six habitable continents will be on the feed; Brazil, Chile, Trinidad & Tobago, Botswana, Bangladesh, Egypt, Jordan, South Africa, The Netherlands, Belgium, Ireland, England, Scotland and Australia.
The Space station and McMurdo Station in Antarctica are both going to TRY and join but in their response they both acknowledged the difficulty on feeds and at a minimum will be joining the US Program in the coming weeks.
When asked about other organizational difficulties, Shea said; "We have a player in South Africa who wants to join us but he doesn't have a ball. We are solving that one as we are calling local stores in Durban which are partially open and we will purchase him a ball to go and pick up."
The six continent first and historic session will finish with a guest speaker and non CP players are welcome to follow along the live stream on the CP Soccer Facebook page starting at 09:00 EST Saturday May 16th, 2020.
A feature of the daily training session that will occur at around 09:35 EST is the daily bucket challenge where players bounce juggle the ball into a can or bucket or laundry basket or whatever they have. See if you can join Shea as he attempts to take on the world in the first ever bounce-juggle bucket challenge.
If you have any questions or would like to know more and would like to see a US CP Soccer session you can email Ashley Hammond ashley@cpsoccer.us or via text at +1 973-768-2017