2015-06-17
CP Football World Championships - Day 1
News
ROUND UP: DAY 1AS IT HAPPENED
The Cerebral Palsy Football World Championships got off to a flying start, with a dominant victory for the host nation England and wins for Australia and current World Champions Russia.
The opening ceremony was attended by, St. George's Park chairman and chief executive David Sheepshanks and Julie Harrington and chief executive of the PFA Gordon Taylor, with speeches made by IFCPF Secretary General Jan-Hein Evers, FA CEO Martin Glenn and Tournament Director Jeff Davis.
After the packed stands at St. George's Park had witnessed a memorable opening ceremony, with all of the teams involved, the host nation took little time in taking control of their match against Japan.
Jack Rutter was the star of the show, grabbing six goals, with James Blackwell and Jake Brown also scoring two a piece. Michael Barker and Emyle Rudder were also on the scoresheet as the final score stood at England 14-0 Japan.
In the second game of the day, Australia took on Portugal in a closely fought contest. It took until the opening stage of the second half of the match for Australia to break through, with James Turner notching their first goal.
Portugal pressed for an equaliser but Australia defended resolutely throughout and doubled their lead at the very end of the match when Turner scored his second goal to leave the final score at Australia 2-0 Portugal.
The final match of the day saw the current World Champions Russia put eight goals past the Republic of Ireland in a strong performance.
The goal of the match came from Gary Messett who equalised early on for the Republic of Ireland with a stunning strike, however Dmitrii Pestretsov, Eduard Ramonov and Alexei Borkin all grabbed two goals each with Viacheslev Lorianov and Alexander Kuligin also scoring to leave the result at Russia 8-1 Republic of Ireland.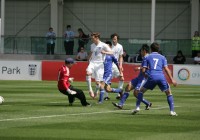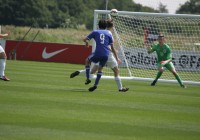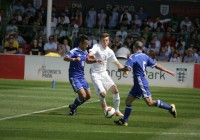 ENGLAND 14 - 0 JAPAN
England began the CP Football World Championships with a comprehensive 14-0 victory over Japan at St. George's Park. England dominated throughout the game allowing Japan very few openings to get on the scoresheet.
The first half was dominated by the hosts, with England racing into a 9-0 lead before the break. Captain Jack Rutter was the stand out performer in an England team that played some dazzling football and grabbed himself four goals within 22 minutes. His fourth of the game was a sublime free-flowing team goal finished off by the influential captain, to make it 7-0.
Japan offered very little going forward throughout the first half with their only shot on target coming from Yoshino straight from kick off. Inoue went close for Japan late on in the half, only for England to go straight up the other end and finish courtesy of Rudder who proceeded to perform a rather entertaining celebration, much to the crowd's amusement.
England resumed started the second half with exactly the same decisiveness and control over the struggling Japan side. Rutter added his fifth and sixth of the game within eight minutes before being replaced by Ollie Nugent, who would go on to torment Japan further.
Nugent managed to get on the scoresheet twice, whilst being instrumental in controlling the entire second half with a performance that took the limelight away from Rutter somewhat.
Jake Brown continued to be influential throughout the second half, getting his second of the game and further piling on the misery for the Japanese team.
If this game is anything to go by, a lot can be expected of this England team after getting the tournament underway with a resounding victory against their Group A opponents.
England
Team: Giles Moore (GK), Mathew Crossen, Jack Rutter, Michael Barker, James Blackwell, Jake Brown, Emyle Rudder, Harry Barker, Karl Townshend, Martin Sinclair, George Fletcher, Oliver Nugent, Ryan Kay (GK)
Scorers: Jack Rutter (4", 9", 20", 27" 36", 37") Michael Barker (7") James Blackwell (12", 23") Jake Brown (16", 51") Emyle Rudder (27")
Sent Off:
Booked:
Japan
Team: Naoyoshi Kagayama (GK), Taisei Taniguchi, Yuki Soma, Tetsuya Toda, Ryuta Yoshino, Tatsuhiro Ura, Jose Luis Giera, Carmelo Garrido Adolfo Acosta, Antonio Martin, Alfredo Cuadrado, Pedro Villa, Vicente Aguliar, Marcelo Rosado Raul Diaz (GK)
Scorers:
Sent Off:
Booked:
Details
Match officials: Hector R Bondia, Jon Burridge, Carlos Dias, Ashley List
Attendance: 889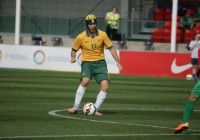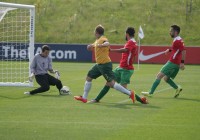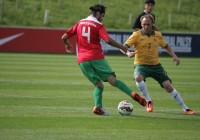 AUSTRALIA 2 - 0 PORTUGAL
Australia began their Cerebral Palsy Football World Championships campaign with a 2-0 victory over Group B opponents Portugal thanks to a second half brace from James Turner.
Having dominated the first half chances, it took the Aussies just two minutes to break the deadlock in the second half. Portugal goalkeeper Rui Rocha could only parry a trademark David Barber long throw-in as far as Turner, who produced a composed finish from close-range to open the scoring in what was a feisty encounter at times.
Turner then sealed the three points in second half stoppage time. The number 11 received the ball from a Barber throw-in, before a quick turn of pace accelerated him towards the Portugal box, where he finished neatly with his side-foot to round off an impressive performance from Kai Lammert's side.
Barber, the captain of Australia, had been in the thick of the action throughout the majority of the first half and enjoyed particular success down the left hand channel as the Aussies took the game to Portugal in the opening stages.
Luckily for manager Vasco Santos Ferreira, Rocha brought his A-game, doing brilliantly to stop Barber one-on-one after the Aussie skipper had dispossessed the occasionally vulnerable right-back Vasco Santos in his own-half. And Rocha continued to frustrate the team ranked 12th in the world, again producing sublime stops from Barber and Roche free-kicks in quick succession.
Despite all of Australia's opportunities and dominance in possession, Portugal arguably had the best chance of the first half when Pedro Santos agonisingly struck the outside of the post after cleverly finding space behind the Australian defence in the 10th minute of the game.
That opportunity clearly gave Portugal some confidence as they continued to pressure, with captain Vitor Vilarinho finding Tiago Ramos with a well-placed pass. However, the striker's resultant shot was well blocked by an Australian defender.
Vilarinho then went close himself, opening up his body to avoid a challenge and set himself up for the shot but the midfielder's eventual effort proved tame and was comfortably saved by Australian shot-stopper Christopher Barty.
However, the momentum that Portugal had gathered towards the end of the first half was quickly halted at the beginning of the second 30 minute period when Turner scored his first. Portugal did not lose confidence, though, pushing Australia deep into their half as they frantically searched for an equaliser in the latter stages of the match.
Ultimately, though, Australia defended resiliently and proved too much for their counterparts, consolidating victory with Turner's second at the very end.
Turner and co will now look to make it two wins out of two when they face the Republic of Ireland on Thursday, whilst Portugal will hope to claim their first points of the tournament against Russia on the same day.
Australia
Team: Christopher Barty (GK), Benjamin Roche, Christopher Pyne, David Barber (C), Ben Atkins, James Turner, Zachary Jones
Substitutes: Jack Williams, Thomas Goodman, Connor Marsh, Angus MacGregor, Cameron Gudgeon, Ned McCabe (GK)
Scorers: James Turner (32", 60")
Sent Off:
Booked: Benjamin Roche (29"), David Barber (55")
Portugal
Team: Rui Miguel Ferreira Rocha (GK), Hugo Manuel da Silva Pinheiro, Vasco João Gomes dos Santos, Rúben Miguel Sousa Oliveira, Vítor Emanuel Ribeiro Vilarinho (C), Pedro Filipe Fernandes dos Santos, Tiago Ribeiro Baptista Ramos
Substitutes: Ricardo Santos França, Cláudio Filipe Ferreira Nóvoa, Tiago Carneiro, Sérgio Manuel Silva Barros, Lucas de Souza Semblano Pinheiro, Telmo Luís dos Santos Baptista (GK)
Scorers:
Sent Off:
Booked: Pedro Filipe Fernandes dos Santos (17")
Details
Match officials: Kyunyong Park, Jorge Barbisan, Minesh Gupta, Scott Henry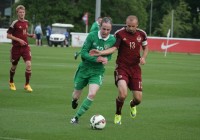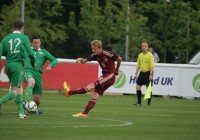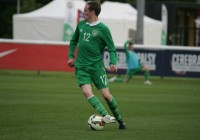 RUSSIA 8 - 1 REPUBLIC OF IRELAND
Russia fully exemplified why they are ranked number on in the world with a comprehensive 8-1 demolition of Republic of Ireland on the opening day of the Cerebral Palsy Football World Championships.
Goals in the match came courtesy of Dmitrii Pestretsov (2), Eduard Ramonov (2), Alexei Borkin (2), Viacheslev Lorianov and Alexander Kuligin in a strong display.
The 2011 World Championship winners took just three minutes to open the scoring, with Pestretsov finishing off an eye-catching move that involved a number of slick passes amongst the Russian attack inside the box.
Just five minutes later, Ireland managed to peg their opponents back through Gary Messett's sensational equaliser; a goal that was arguably the best of the game. The midfielder advanced forward on the counter-attack and, after his initial through pass to a teammate was intercepted, Messett pounced on the loose ball to unleash a venomous strike that flew into the top right-hand corner of the goal.
However, any Irish hopes of a tight contest were subsequently quashed as Russia continued to dominate first-half proceedings, adding two more goals before the end of the first 30 minutes. Pestretsov claimed his second of the match before Larienov got on the score sheet with a simple tap in at the far right-hand post.
Avtandil Baramidze's side did not start the second half with the same tenacity that they had ended the first-half with, instead preferring to sustain possession for long periods in an attempt to prevent any potential Irish momentum at the restart.
And prevent Irish momentum they did. Gerard Glynn's men rarely found their way into the Russian half and if it was not for some impressive saves from Ireland goalkeeper Brian McGillivary then Russia could have easily reached double figures.
Eventually the Russian pressure told and Ramonov effectively finished the game off in the 44th minute, heading home from close range to ensure a virtually unassailable 4-1 lead.
Unmarked substitute Borkin soon added a fifth with a simple header from a corner, before Kuligin found the back of the net to complete an elegant passing move that resembled the aesthetic passing style so frequently demonstrated by the likes of Barcelona.
Ramonov and Borkin then both secured their braces with goals in the final five minutes of the match, wrapping up an extremely convincing victory that will surely establish Russia as one of the favourites for the tournament.
They will now aim to cement their place at the top of Group B when they take on Portugal, who suffered a 2-0 loss to Australia in their opening fixture. Ireland, meanwhile, will hope to recover from a crushing defeat when they face the Aussies in their second match of the competition.
Russia
Team: Vladislav Raretckii (GK), Eduard Ramonov, Dimitrii Pestretsov, Lasha Murvanadze (C), Georgiy Albegov, Viacheslav Larionov, Alexander Kuligin
Substitutes: Aslanbek Sapiev, Alexey Tumakov, Alexey Chesmin, Ivan Potekhin, Zaurbek Pagaev, Alexei Borkin, Guram Chkareuli (GK)
Scorers: Eduard Ramonov (3", 44", 55"), Dimitrii Pestretsov (14"), Viacheslav Larionov (16"), Alexander Kuligin (54")
Sent Off:
Booked:
Republic of Ireland
Team: Brian McGillivary (GK), Joe Markey, Darragh Snell, Luke Evans (C), Gary Messett, Ryan Nolan, Jason Moran
Substitutes: Eric O'Flaherty, Paraic Leacy, Carl McKee, Aaron Tier, Dillon Sheridan, Peter Cotter, Simon Lestrange (GK)
Scorers: Gary Messett (11")
Sent Off:
Booked:
Details
Match officials: Keith Stroud, Adam Panter, Stuart Campbell, Tom Elliott