2016-10-12
2017 Dublin Friendship Cup
News
Ireland's CP Football Development Academy will be running their annual tournament early in 2017.
2017
The tournament aims to include national sides who are developing towards Paralympic, World and Regional level tournaments. The event will also include development and mini (8-11 years) competition.
Expressions of interest should be sent to Ricky Treacy at rickytreacy@gmail.com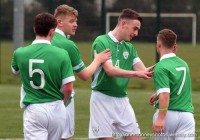 Last year's event included teams from England, Denmark, Ireland, Italy and Northern Ireland playing in the three sections of Development, Talent and Minis.
"The Dublin friendship tournament objective here was that everyone plays and everyone goes home with a smile on their face and both these two objectives were achieved in spades."