2017-05-25
Taking CP Football to the next level in India
News
CP Football has been developing over the last 10 years in India, supported by the creation of the 7-a-side CP Football Federation of India and organisation of annual National Championships. The International Federation of CP Football have recognised this hard work and dedication and therefore provided guidance through the delivery of an IFCPF CP Football Workshop.
Opening at Park Regis, Goa
The workshop was opened by Rajesh Tomar (President of 7-a-side Football Federation of India & Vice President of Asian Paraympic Committee) & Ravi Kondaiah (General Secretary of 7-a-side Football Federation of India), welcoming 52 coaches, 2 physiotherapists, 2 doctors and 6 administrators.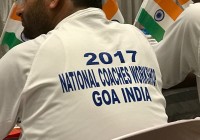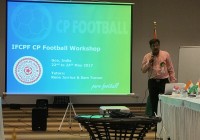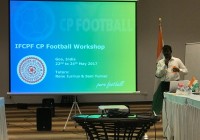 Day 1
Forming an introduction to CP Football and the International Federation of CP Football, our course tutors guided the participants through a lot of detailed information to support them in understanding and developing the sport in India.
Building knowledge of Cerebral Palsy and Classification, participants gained an understanding of how they can support and identify players to grow participation and develop a good national classification programme.
Sharing knowledge and experience, course tutors Rene Jurrius and Sam Turner gave an insight into coaching within CP Football and guidance to support coaching at all levels of the game. Coaches were then challenged to devise their own coaching sessions to be delivered the following day with a number of CP players.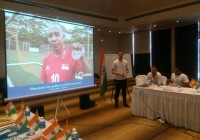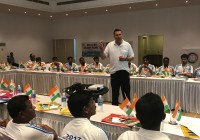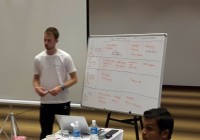 Cerebral Palsy and Football Presentation from Raquim Khan - General Secretary of Rajasthan CP Sports Association
To support the delivery of our IFCPF course tutors, Mr Raquim Khan delivered a short presentation of his own research around cerebral palsy and CP Football. Helping to bring the content to life, this interesting presentation gave course participants a local and cultural understanding of what is already taking place in India.
"Feeling highly proud. When I got the chance to meet IFCPF - International Federation of CP Football Secretary General, Sam Turner, and IFCPF Tutor, Rene Jurrius. On 23rd-24th May 2017 CP Football workshop was held in Goa, in which all members of India CP Football Federation was there. I got the chance to share my views on cerebral palsy sports in the form of Presentation and after it, they appointed me as Rajasthan CP Sports Association General Secretary, it was a proud moment for me. In this journey i learned many things from my seniors."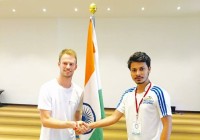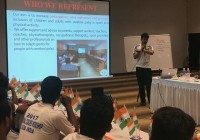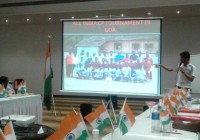 Day 2
Delivering their planned activites, the coaches were highly motivated and delivered some great training sessions, including technical and tactical exercises to the young players. Developing their observation and feedback, coaches asked questions of each others' training sessions and shared their own insights to help develop a shared learning environment.
IFCPF course tutors also took coaches through the classification process, demonstrating key techniques, exercises and things to look for.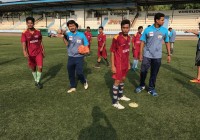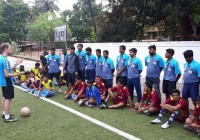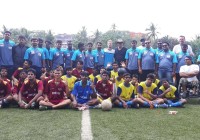 Day 3
The third day was used to work with the committee of the 7-a-side CP Football Federation of India, supporting them to write a development plan and gain support of key people and organisations in Goa, India and the South Asian region.
Officials of both organisations visited the Collectorate North Goa to share information and excitement about the development of CP Football. Smt. Nila Mohanan IAS (Collector for District of North Goa) expressed her support for the sport and commitment of the region of Goa. A visit was also made to the Directorate of Sports & Youth Affairs in Goa.
To support future plans of the Indian Federation, IFCPF visited some of the local football facilities and stadia to provide guidance in hosting events and tournaments.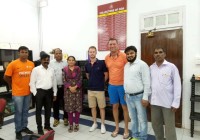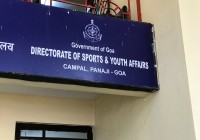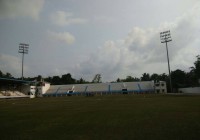 Review
Folowing the workshop, the 7-a-side CP Football Federation of India have set themselves some objectives for the future:
Increase the number of players, including mini sub-junior and youth players

All over India, organising coaching camps for CP Football players

Increase the number of states participating in national and competitions

Supporting the participation and increase the number of female players accessing the CP Football

Development Level Competitions and state championship every year

Provide training to more coaches

Increase the number of national referees from all over India

Qualify more classifiers and roll out the new classification system

Establish an athletes commission, encourage our members to appoint athlete representatives and provide an athlete support programme

Every year organise a sub-junior, junior and senior national CP Football Championship

National team selection and coaching camp for participation in international championsip

South Asian international CP Football Championship in Goa, India
Congratulations to Mr. D. Ravi Kondaiah for his excellent organisation of this CP Football workshop in Goa, India, and his ongoing commitment to the development of CP Football in India.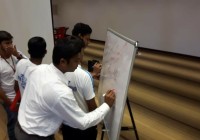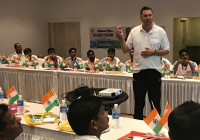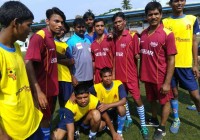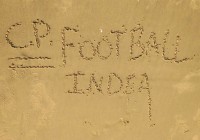 "I believe that in India we have a group of people who are enthusiastic and committed to developing CP Football. It is clear that they have made great strides in a short space of time, with some fantatic goals for their future. The key now is that people who believe in this beautiful game go out there and inspire others, growing the CP Football Family. Keep up the great work!"
Sam Turner - IFCPF Secretary General