2016-06-15
IFCPF World Championships Qualification Tournament draw
News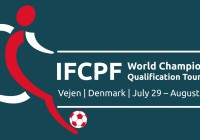 The tournament draw will take place at 11.30 AM CEST on Friday, June 17 in Brøndby, Denmark. The event will be livestreamed at Facebook.com/cpfootball2016 and published on the tournament website.
Thirteen (13) countries will take part in the 2016 IFCPF World Championships Qualification Tournament, which is being held in Vejen, Denmark from July 26 to August 7. The tournament will determine which eight teams make it through to the 2017 World Championships, with the top eight (8) ranked teams from the IFCPF 2015 CP Football World Championships.
The draw will divide the participating countries into one pool of four and three pools of three. Teams ranked first and second in the groups play cross overs in the quarterfinals. Winners of the quarterfinals play in the semifinals, and winners of the semifinals play in the Gold Medal match for first and second position. Losers of the semifinals play in the bronze medal match for third and fourth.
Teams ranked third and fourth following the group stage will play for position 9 – 13.
The opening ceremony and match will take place on July 29, and will be streamed live as well as on demand on the tournament website.
The thirteen (13) participating teams are:
Australia
Canada
Denmark
Finland
Germany
Iran
Japan
Northern Ireland
Portugal
Scotland
South Korea
Spain
Venezuela