2017-08-14
Fixtures released for the 2017 IFCPF World Championships
News
Today the Local Organising Committee of the 2017 IFCPF World Championships have released the final fixture programe for the tournament which will take place in 19 days time.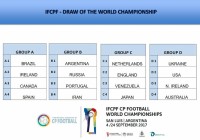 Tournament Draw
From the tournament draw, which took place on 1st August 2017, the competing teams know the teams they will face in the grouo stage of the competition and who they will need to beat in order to progress to the further rounds of the tournament.
The draw is an important stage as this ensure the allocation of teams into groups is as fair as possible, ensuring teams of a similar ranking are split across the groups and countries of the same region are not all grouped together.
With the release of the fixture programme, the teams will now begin to finalise their plans as they know the days and times they will face each of their opponents.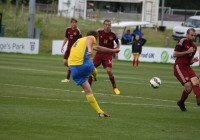 Fixture Programme
The opening fixture of the tournament will take place at Juan Gilberto Funes on Sunday 10th September between Brazil and Canada.
The Group Phase will last up until Friday 15th September, before a rest day for all teams on Saturday 16th.
The second round, on 17th and 18th, will see teams divided into those competing for 9th - 16th place and those playing in quarter-finals for positions 1st - 8th.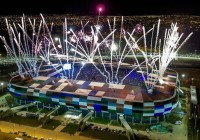 Progressing to the third round on 19th and 20th, the third round will further divide teams down to those competiing for 13th - 16th, 9th - 12th, 5th - 8th and the semi-finalists.
Our final three days of the tournament will work down from securing position 16th on 21st, through to the final at 16:30pm on Saturday 23rd.
For all the information about matches, teams, players, live streaming and latest results; visit our Tournament Page here.