2016-08-23
Reflections - Ben Roche
News
A child is born is born with Cerebral Palsy every 15 hours in Australia, with only 50% making it to their 18th birthday.
1 in 2 is in chronic pain.
1 in 3 cannot walk.
1 in 5 cannot talk.
My name is Ben Roche. I am 27 years old, born with Cerebral Palsy and I play for the Australian Pararoos. Over the course of my life I have been labelled as physically weak and at a disadvantage. I dispel these stereotypes and instead use my disability as a means for me to build my strengths and continue to learn.
"Amazing footballers but also teachers, community workers, husbands and fathers."
My parents from a very young age raised me to embrace my disability, be comfortable with it and to tell people about it. It took me a long time for this to sink in as kids can be so cruel. At a young age I found myself dealing with intense emotions and feelings. I faced obstacles and challenges early in life including the basics of tying my shoes, but it was all part of the process and it helped build resiliency. On a family holiday to Canberra when I was 12, we did a tour of the Australian Institute of Sport. I had been playing football for a few years and was wrapped to discover there was football for athletes with CP, ABI or stroke; Paralympic football. The team was known as the Pararoos. It was interesting to see the similar stories; hardworking individuals on and off the field. Amazing footballers but also teachers, community workers, husbands and fathers. It was at this point I realised I could achieve whatever I wanted. I didn't want pity. I wanted to earn everything. I am now fortunate to be in a position where I have an opportunity to support others.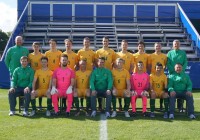 "There's opportunities out there for that kid."
I distinctly remember getting an email about a young kid with cerebral palsy who was playing local footy with his friends. A kid on the other team called him a retard and it destroyed him. He was so distressed he had to leave the field. Both clubs were devastated. It came from this one word and the kid probably didn't realise the severity of it. Now the kid is considering giving up football. For me this is a chance to step in. It brought back so many memories of me playing football as a kid. I remember attending Pararoo camps surrounded by so much encouragement and positive role models, but then returning to local football and being sat on the bench as 'the disabled kid that couldn't play!' I made a point to check in with the kid and his family. There's opportunities out there for that kid. He needs to know that and he should feel comfortable going out and playing with his mates every week.
The word inspiration gets thrown around a lot. For me these guys were inspiring, not because they had a disability and had chosen to get out of bed. Instead, inspiring because they worked hard in all aspects of life. The people that I've played with and looked up to from an early age have worked hard and not let the challenges they face get in the way of what they want to achieve. They didn't expect things to be handed to them. When I first met the two original Pararoos captains David Barber (60 caps and same amount of goals to match) and Christopher Pyne (90 caps), who are still involved in the program, I was inspired to be a leader and knew this would be a passion of mine. Barber was a fully qualified nurse working hard off the field and Chris was studying to be a teacher. I learnt an integral part of being a Pararoo is being a role model for others with a disability.
The leader in me was born. I do it for the people that don't have the confidence to speak up. I do it for my kids because I want them to be leaders too.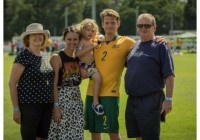 "I'm excited that with the right support who knows what we are capable of."
Mum, Dad, my brother and sister have been super supportive of everything I've chosen to do. From leaving school early to travel around Australia in the entertainment industry, to playing football from the earliest of ages. I think I had my parents a little confused. My wife, Abby, that I've been with for over 6 years is incredible. She gives me the support I need to be able to go and train every day, go and speak to schools, take on way too many things at once. I'm constantly travelling. We worked out that it was over 40+ flights last year. She has probably taken a bit of a back seat at times for me. I couldn't do it without her. Since having kids; Quinn four years old and now Lennon 6 months, this gives me a whole new perspective on why I do it. A major focus of mine is getting that work, life and football balance. I want to make sure my family get everything they need. My parents, Abby and our little boy Quinn came to England to watch me play over there for the very first time last year. That was a massive deal and I feel it rejuvenated my passion for football.
When the time came to fight for funding of the Pararoo's World Championship campaign this year, I was able to draw on these strengths. If we hadn't spoken up in the last 5 months, the Pararoos might not have made it to Denmark. The week my baby was born was the same week we found out the funding was gone and that if we didn't get to Denmark the program would probably cease. I took it as a challenge that and I couldn't let it go. It was important to get the team there for the future of the program. When I look at what some of the other countries are doing it was vital to push for the future of the program. In the end we got to Denmark and even went one step further actually qualifying for the World Championships. I'm excited we are going to the World Champs. I'm excited that with the right support who knows what we are capable of. With the right people believing in us we are very capable of going a long way. We showed a little bit of that in Denmark, we gave people a taste with not much. Now I want to show people what we can do with time and everything on our side.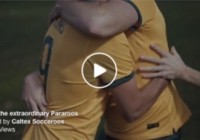 VIDEO: Meet the extraordinary Pararoos
Click here to watch 'Meet the extraordinary Pararoos', plus interview with Ben Roche
"It excites me that I'm still learning. I'm not done, I'm continuing to grow."
It's been over 10 years since I put on the green and gold for the first time in Connecticut, USA. It's not something many get to do. The feeling never gets old and I take great pride in putting that Jersey on. I am proud of my achievements on the field. I have scored 15+ goals for my country, won a couple of golden boots, Players Player and Player of the Tournament awards. I have played football throughout Europe, The UK, Asia and the U.S along with participating in 3 world Cups but what is most extraordinary is that I'm ordinary. I am a business manager, I am a husband and I am father. I can tie my shoes and change nappies. It excites me that I'm still learning. I'm not done, I'm continuing to grow.
Ben Roche
Ben has now been playing football at a National level for over 15 years, and hopes to play for many more. He has become a voice for footballers with disabilities, and invests his time in mentoring many young athletes, and supporting the development of inclusive programs.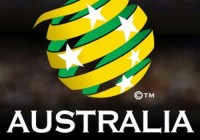 Australia - Pararoos - Paralympic 7-a-side
The Pararoos represent the players with cerebral palsy and other neurological disorders, including stroke and traumatic brain injury.

"Being a Pararoo means being the best you can be, no matter what." – Angus MacGregor

Find out more about the Pararoos here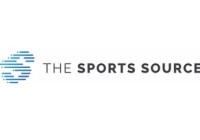 The Sports Source
Told by the athlete, for the fans.

There's nothing more powerful than an athlete's story. How it all began, the lessons learnt, the advice given, the families, the fans, the opportunities, the challenges, the successes, the drive, the determination.

Regular people, often with unbelievable skills. The Sports Source will bring fans closer to the person behind the hero.

We represent the athletes voice; unspoken words of wisdom to inspire others to strive for greatness in whatever form that takes. Be immersed in a community of sporting enthusiasts; athletes and fans alike.

Join The Sports Source and become better connected to those who share the same passion.

Authentic experiences straight from the pro, direct from sports most trusted source.

The Sports Source