2016-04-10
Dublin Friendship Cup
News
The Dublin friendship tournament objective here was that everyone plays and everyone goes home with a smile on their face and both these two objectives were achieved in spades.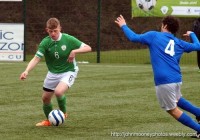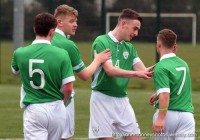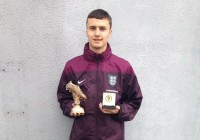 Development level
Thursday 31/03/16
England 5 v Denmark 0
The Danes appeared to be suffering from their long travels and started very slowly. England by contrast were very sharp and astute from the kick off and imposed themselves early on. The eventual player of the development tournament, Will Ling, was on top form raiding into the the Danish box on many occasions. Denmark had some brief spells where they tried to play themselves into the game but England were well drilled and communicated very effectively to fill the gaps. In the end it was a comfortable win for England.
Friday 01/04/16
Rep of Irl 0 v England 4
Ireland were caught with an early English goal after 2 minutes followed by another some 10 minutes later. Against an England side that was already showing their quality there was going to be no way back. Alan Moore the Irish captain inspired his team into honest graft but it wasn't to be enough with England scoring two more for the eventual result. Ireland were caught cold here and were in need of a serious refocus going into the next game.
Friday 01/04/16
Denmark 2 Italy 0
Denmark were very much over their travel tiredness for this fixture and looked like the quality footballers we have seen in previous tournaments. This was Italy first outing in CP football but it didn't show and they played some very natural football. Their goal keeper and ex pro from Turino FC who qualifies to play via an acquired brain injury showed his class pulling off masterful saves with ease and sweeping everything up at the back. Denmark had to work hard here to get there 2 nil result.
Saturday 02/04/16
Rep of Ireland 2 Denmark 2
This trusted out to be a cracker of a game with Ireland at last settling and believing in their system. Denmark's Martin Wolfe, aside from their captain easily their best player, returned for this match after being rested. An inspired substitution from the Irish saw the Irish Captain Alan Moore being replaced by hat trick hero from the talent game the day before, Sam Carroll coming on to make an immediate impact, latching onto a sweet ball into him on the the edge of the box from Josh Treacy, saw him take a touch with back to goal swivel and bury it past the Danish keeper. Ireland two wingers then switched off alternately costing two Danish goals. In the dying minutes of the match the Danish centre back dropped to the ground in the circle with an apparent injury however he quickly got up Ireland then contested the hop ball driving into the Danish box and Aaron Tier selflessly set up Sam Carroll for a tap in and his second. The final whistle sounded shortly after. A good result for the Irish having been beaten in Denmark previously 3-0 last May.
Saturday 02/04/16
England 5 Italy 0
England once again showed that hey were at a different level passing crisply around the Italians. The Italian lack of mobility around the park showed in this match as the England team passed and moved their way round the Italians. Italy very rarely got out of their half for most of the match. The Italian keeper was again on top form. Two nil at the break the England team readjusted at the interval to play wide around Italy rather than through the middle which resulted in three second half goals. England worthy winner and now sitting on an unwatchable nine points making them tournament champions at development level.
Sunday 03/04/16
Rep of Ireland 1 Italy 1
At last Ireland started from the off with discipline and shape and immediately took the sting out if Italy's ninety mile an hour start by retaining possession and pinging the ball around. This was to be one of the matches of the week end. Ireland's Captain Alan Moore slotted home after a pinpoint assist from Ireland number 7, Josh Treacy, given the quality of the Italian keeper everything about this goal had to be 100%. The wet conditions made it very hard for the Irish keeper to hold onto a shot from Italy and the ball found its way into the Irish net making it 1-1. Thirty seconds later the Irish keeper, Matty Foy pulled off a world class point blank save. Ireland then began to dominate and had two clear chance on goal. The first, Irelands winger Dillion O'Brien took on the chance himself with on form striker Sam Carroll completely unmarked in the box, shooting wide. Some five minutes later a mirror image of the same situation was once again spurned. Ireland pressed for the winner but eventually time was the enemy and so it finished 1-1.
| | | | | | | | | |
| --- | --- | --- | --- | --- | --- | --- | --- | --- |
| Teams | P | W | D | L | GF | GA | GD | PTS |
| England | 3 | 3 | 0 | 0 | 16 | 0 | +16 | 9 |
| Denmark | 3 | 1 | 1 | 1 | 4 | 7 | -3 | 4 |
| Ireland | 3 | 0 | 2 | 1 | 3 | 7 | -4 | 2 |
| Italy | 3 | 0 | 1 | 2 | 1 | 10 | -9 | 1 |
Talent section
Friday 01/04/16
Rep of Ireland 5 Denmark 1
This was the story of Sam Carroll who played like a seasoned pro in the striker position which yielded 3 goals, one from a penalty. Sam showed all the attribute of an old style bustling but yet tricky centre forward putting his two goals from okay away in style and calmly slotting home his penalty. Not bad for Sam, first international gaol and hat trick all in the one game.At 3-1 Ireland emptied the bench to ensure all players some game time. Sean Markey, one of those subs was the first to capitalise deftly tapping over an on rushing keeper to score his first international goal. Cian Fitzpatrick anther super sub slide bravely in with the keeper to score his first goal in green, proudly displaying his stud marks up his thigh as an unintended souvenir from the Danish keeper.
Saturday 02/04/16
Northern Ireland 9 Denmark 0
This was very much a mismatch of boys against men here and was very evident early on with N.Irl players tricking and flicking their way through the Danes. As the score line reflects this fixture was very one sided. Denmark really did battle hard here but we're just over run by a N.Irl team containing some team GB squad members in consideration for Rio.
| | | | | | | | | |
| --- | --- | --- | --- | --- | --- | --- | --- | --- |
| Teams | P | W | D | L | GF | GA | GD | PTS |
| Northern Ireland | 2 | 2 | 0 | 0 | 14 | 4 | +10 | 6 |
| Ireland | 2 | 1 | 0 | 1 | 9 | 4 | +5 | 3 |
| Denmark | 2 | 0 | 0 | 2 | 1 | 11 | -11 | 0 |
Mini's fixture
Saturday 02/04/16
Republic of Ireland 4 Northern Ireland 4
This turned out to be one of the games of weekend. The Republic going three goals down to come back to level at 4-4. Ireland managed to get all their squad on the pitch over the course of the game. The minis players here showing a fine example of how the game should be played with passion yet discipline and more important enjoyment.
Tournament thoughts from Ricky Treacy
There are many people to thank for the smooth running and pre planning of the event. Right from the start when the idea came into my head, Dan Byrne ran with it. Once all the plans were in place it allowed myself to step back from the Thursday on and concentrate solely on my squad. Dan remained the main link man over the weekend joining up the dots between the teams, venue and hotel. "Air traffic control" at the venue was managed by Donal Halpin abley assisted at times by John Rodgers, Paul Carroll and Tommy Nolan. Donal was always first man there and last man leaving.
Catering was provided by a number of the parents, Jacqui, Cheryl, Rachel and Karen which involved not only the prep but the clean up after. Paul Cassin took on the role of liaising in the hotel. Dan was also assisted by 5 lovely younge ladies who were assigned to each team as their point of contact and "tournament guide" Rebecca , Kayleigh , Emma, Alana and our own Irish team team girl Emily. Who added to the already great atmosphere of the tournament. We were well looked after by SDFL. The standard of refereeing was excellent with the referees taking the time to understand Cerebral Palsy and Cerebral Palsy football.
The Clarion went out of their way to ensure all our guests had a very enjoyable stay in particular Louise, Dara, Jas and the multilingual Martina. Mick Doyle former Ireland international Paralympic football team manager attended over the weekend to watch and encourage, along with the current team captain Luke Evens, who started way back in the development section. Mick was also involved as one of our sponsors, EBV Electronics. Our other sponsors included Ballon sports, Mason, Hayes and Curran, Hayes solicitors and Heart beat safety. St John ambulance were on hand over the whole weekend volunteering their pre hospital care services, (medical/first aid). The FAI supported the weekend along with recognition from the International Federation of Cerebral Palsy Football, IFCPF.
However it's not finished there with the organising team meeting over the course of next week to debrief and plan the next one, once we all "de-footbalise" ourselves from this one. Next up for May is an internal mini's league and a possible U20s trip to Barcelona to face Tunisia, Austria and Catalonia in June. So yes folks the sponsorship please go out again.
From the manager POV it took a while for the Irish team to settle in to a tried and tested system rather than the preconceived notions in their heads from too much FIFA on the play station or premiership matches. We were punching above our weight all the way through this tournament with the talent team showing the development team that the endless drills in training work on the pitch. Some real success stories from Sam Carroll's five goals to Alan Moore's road back from throat cancer late last year. Overall happy with the foundations laid but plenty of building to do.