2017-06-05
Celebrating UEFA's support for CP Football
News
UEFA Football & Social Responsibility programme
"Football is an integral part of global society and, as arguably the world's most popular sport, it has an invaluable role to play in driving social development and bringing its influence to bear.
The UEFA approach to social responsibility is carefully structured and designed to both create and retain long-term benefits for society through football. The core directives of the UEFA social responsibility portfolio are based on a selection of five-year strategic partnerships which strive for antidiscrimination and diversity, social integration and reconciliation, active and healthy lifestyle, implementing football for everyone as well as funding an important series of football foundations and charity programmes." - UEFA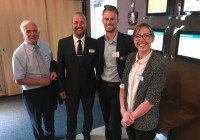 The Clink
As part of the UEFA Football & Social Responsibility programme, IFCPF Secretary General, Sam Turner, and former chairman of Football 7-a-side under CPISRA, Bob Fisher, attended a lunch at The Clink Restaurant at HMP Cardiff. The Clink Charity's sole aim is to reduce reoffending through the training and rehabilitation of prisoners.
UEFA Champions Festival
On Saturday 3rd June 2017, young players from Cardiff City FC Foundation and Newtown Sports CP FC played on the floating pitch at the UEFA Champions Festival in Cardiff Bay. Representing IFCPF and buidling awareness of CP Football, the young players had a fantastic time playing on the pitch and being part of this great event.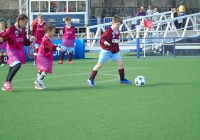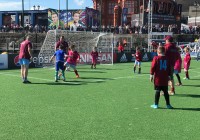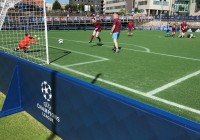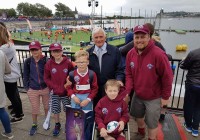 "Some of our team meeting Bob Fisher, the CP football creator. I was so excited to meet the man the started this sport and to listen to how it all started back in the 1970s. I'm so grateful to him and people that work tirelessly to provide opportunities for our children. Thank you Bob."
"Thanks to UEFA and IFCPF for inviting us along to this massive event. As a small, volunteer led disability team in a fantastic community chartered junior club we are honoured to have played here for IFCPF and UEFA. I am so proud of every single player here in our team. They are an inspiration to others and a reminder that together we are stronger."
Scott (Ned's dad and team founder)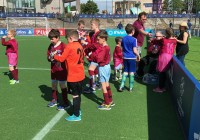 "I was very excited about going to Cardiff and it was the best day ever. My favorite part was playing on the pitch over the water with all of my team mates. I would like to do that again soon. it was awesome"
Joe
"It was really, really good. I loved being with my friends in the team and the help from the team coaches and Dad helpers. It was a great atmosphere and a good experience, I will never forget it. Thank you to all those who came to watch me. I hope we can go on trips like that again."
Ruby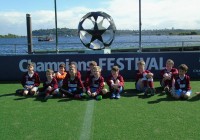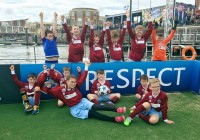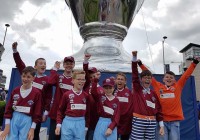 "I think it is great for the children to have been given the opportunity to be part of such a big event, the excitement, energy and enthusiasm that was shown by the children during their time playing was a special thing to watch. It was a very memorable experience and things like this I believe give the children the confidence to be proud of their disability and what they can achieve."
Liza (Ruby's mum)
"Brilliant, brilliant day. All went so perfectly and such an experience for everyone not just the kids."
Tim (Freddie's dad)
UEFA Champions League FInal