Asia-Oceania Region
Effective in 2018, IFCPF have established regional championships for a combined Asia-Oceania region. This will provide all the member countries the same opportunity to qualify for the World Championships and similar tournaments.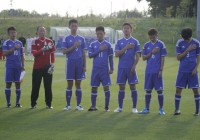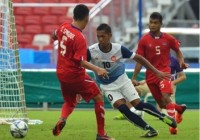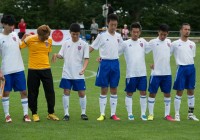 Regional Rankings
As the CP Football competition programme continues to grow, particularly at world and regional level, IFCPF feel it is important to reflect the ongoing commitment and development of all member nations.
Based upon each nation's position within the IFCPF World Rankings, our Regional Rankings lists seek to develop competition within each region.
| | | | | | | |
| --- | --- | --- | --- | --- | --- | --- |
| Pos. | Country | Total Points | 2018 | 2017 | 2016 | 2015 |
| 1 | Iran | 86.08 | 24.08 | 30.00 | 30.00 | 2.00 |
| 2 | Australia | 72.95 | 23.20 | 22.00 | 7.75 | 20.00 |
| 3 | Thailand | 47.94 | 21.44 | 8.75 | 8.75 | 9.00 |
| 4 | Japan | 41.25 | 1.00 | 16.00 | 7.25 | 17.00 |
| 5 | Jordan | 32.57 | 22.32 | 8.25 | 1.00 | 1.00 |
| 6 | South Korea | 30.81 | 20.56 | 2.00 | 6.25 | 2.00 |
| 7 | Indonesia | 27.00 | 1.00 | 9.00 | 9.00 | 8.00 |
| 8 | Singapore | 26.25 | 1.00 | 8.25 | 8.50 | 8.50 |
| 9 | Malaysia | 19.75 | 1.00 | 8.50 | 2.00 | 8.25 |
| 10 | Myanmar | 18.75 | 1.00 | 8.00 | 1.00 | 8.75 |
| 11 | India | 14.75 | 8.75 | 2.00 | 2.00 | 2.00 |
| 12 | China | 11.75 | 1.00 | 1.00 | 1.00 | 8.75 |
| 13 | Nepal | 10.00 | 9.00 | 1.00 | | |
| 14 | Cambodia | 8.75 | 1.00 | 7.75 | | |
| 15 | Kazakhstan | 4.00 | 2.00 | 1.00 | 1.00 | |
| 16 | UAE | 3.00 | 1.00 | 1.00 | 1.00 | |
| - | Vietnam | 3.00 | 1.00 | 1.00 | 1.00 | |
| 18 | Brunei | 2.00 | 1.00 | 1.00 | | |
| - | Macau | 2.00 | 1.00 | 1.00 | | |
| - | New Zealand | 2.00 | 1.00 | 1.00 | | |
| - | Saudi Arabia | 2.00 | 1.00 | 1.00 | | |
| 22 | Bangladesh | 1.00 | 1.00 | | | |
| - | Kyrgyzstan | 1.00 | 1.00 | | | |
| - | Pakistan | 1.00 | 1.00 | | | |
| - | Qatar | 1.00 | 1.00 | | | |
| - | Sri Lanka | 1.00 | 1.00 | | | |