In 2015, IFCPF appointed the first IFCPF Athletes' Representative for CP Football following the creation of new structures for the future development of CP Football. As a member of the IFCPF Board, we are ensuring that athletes are central to our work and driving all key decision making.
Our Athletes' Representative has been working with our members to help them identify a someone to act as Athletes' Representative for their national programme. Steadily we are creating a network of athletes who are able to share their ideas and feedback.
James Murrihy - IFCPF Athlete Representative
Mr James Murrihy, Sports Inclusion Disability Officer with the Irish Sports Council, is a former member of the Athletes Commission of Paralympics Ireland and board member of People with Disabilities in Clare.
Selected as Athlete Representative for IFCPF, Mr Murrihy has enjoyed playing for the Ireland CP Football team from 1995, including three World Championships and two Paralympic Games before his final tournament in 2010.
IFCPF Youth Ambassadors
IFCPF wants to create connection with all member of our worldwide CP Football family, telling the stories of our players to inspire the next generation. Identifying individuals and sharing their achievements with all our supporters, will shine a spotlight on our players making them the face of CP Football.
Just like our approach to governance and development, IFCPF is committed to representation of people in all roles of delivering the sport of CP Football, especially highlighting people with impairments, regions of the world and gender.

We look forward to working with our ambassadors and supporters as we endeavour to bring together all members of the CP Football family to deliver future success for our sport.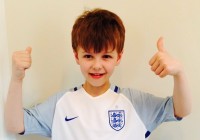 Bryan Kilpatrick Elliott
Let's meet Bryan Kilpatrick Elliott. This twelve-year-old is a very active CP Football player and IFCPF are very happy to announce that the player of Fishlake Falcons, CP United and the Cerebral Palsy talent pathway squad has agreed to become our first Youth Ambassador.

Player Stories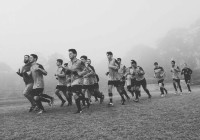 Ben Roche - Australia
"My name is Ben Roche. I am 27 years old, born with Cerebral Palsy and I play for the Australian Pararoos. Over the course of my life I have been labelled as physically weak and at a disadvantage. I dispel these stereotypes and instead use my disability as a means for me to build my strengths and continue to learn."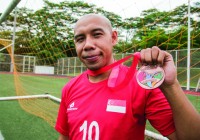 Khairul Anwar - Singapore
More than six years ago, the idea of a cerebral palsy football team was mostly unheard of in Singapore. These days however, the country has a national team taking the Southeast Asian field by storm. This is mostly thanks to Khairul Anwar and the other pioneer members of Singapore's CP football team, who spearheaded the movement.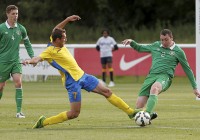 Joe Markey - Ireland
"I had an appointment in the CRC in Clontraf when I was 15, I seen a poster on the wall I phoned the number and was told the current squad was at the Euros in Ukraine , I knew after that phone call I wanted to get involved."
Contact IFCPF